Shipment:
This is how the wig came. In a nice box, inside out.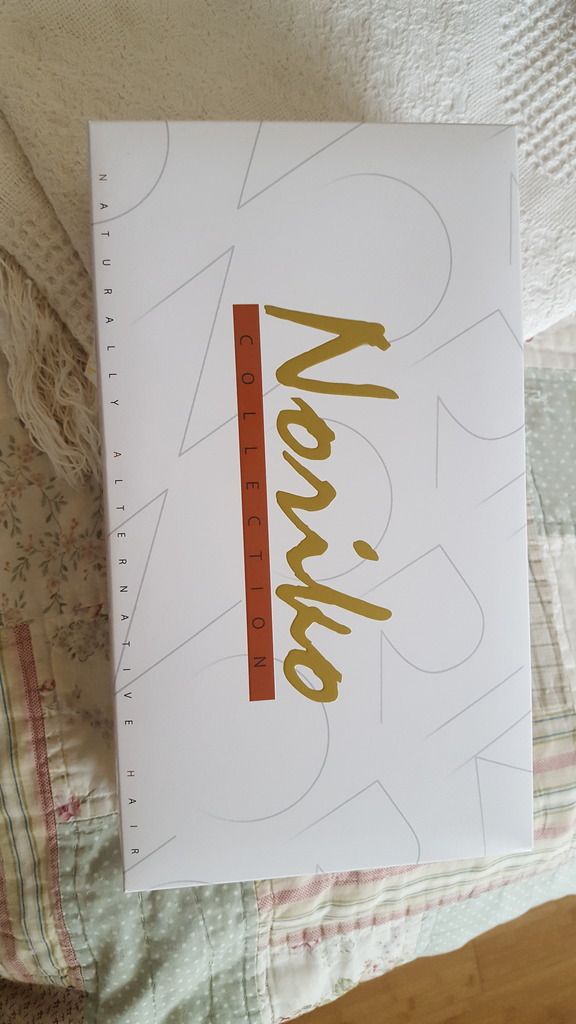 Cap Construction:
The inside cap has adjustable straps to tighten or loosen to fit your head. It is very soft, stretchy and comfortable on. The top of the head, inside, has a soft lace for comfort as well. It has ear tabs with tiny metal inside to bend to fit snug around at your temples for comfort and to hide your hairline.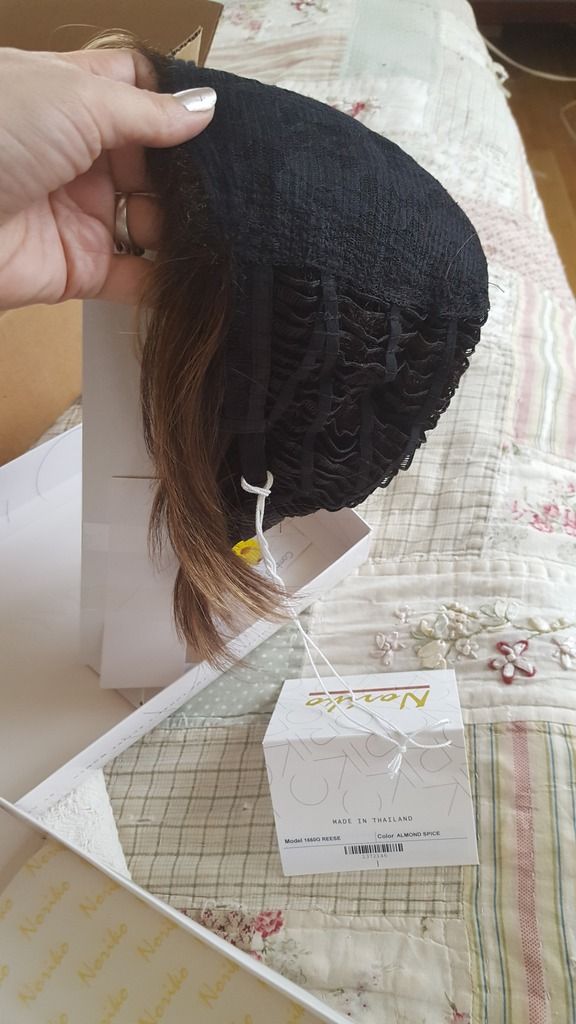 Wear & Styling:
This picture below is right out of the box. The directions said to shake the wig and put it on. I fingered the wig into the shape I wanted. You can easily change the part, tuck behind your ears or put hair accessories in it if desired.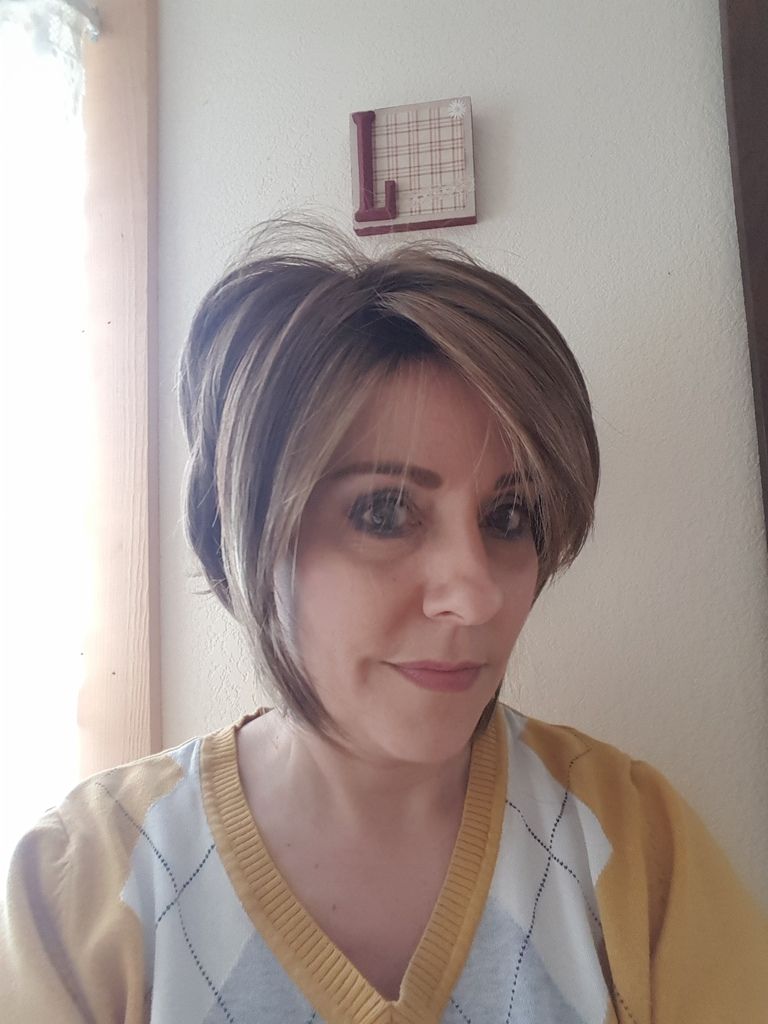 Reese has permatease on the top and top back. This gives the wig height. This will either be a deal breaker for you or you'll love it. I personally LOVE it! I love the height in the top back but could never achieve this with my bio hair. Besides, I was a teen in the 80's......BIG HAIR ROCKED! ;)
After you wash the wig, or wear for a while, just shake the wig upside down and it is supposed to go right back into the style. (This wig is NOT heat resistant.) The wig is supposed to keep it's shape and style even with daily wear. I plan to blog an update after a few months of wearing this wig. I would hope it would last a while due to the price (which is below).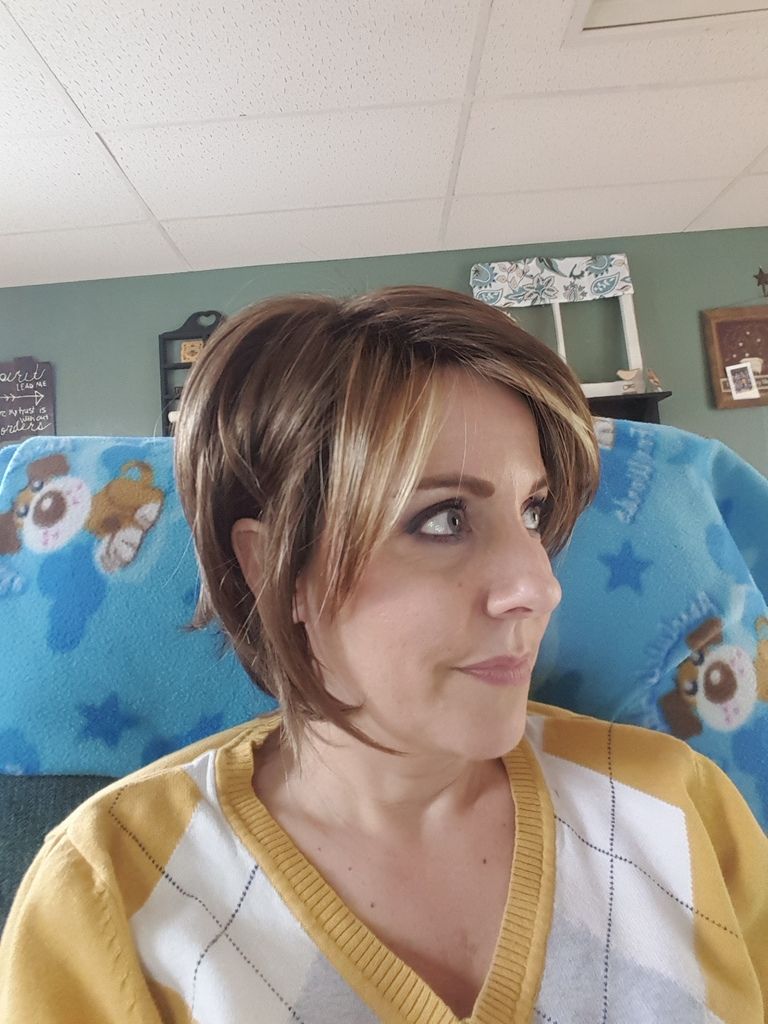 Where to buy & price:
I purchased this wig from Paula Young. Keep in mind though, that Paula Young doesn't keep the wig in stock, it is shipped from the manufacture. This will delay shipping. I received the wig in approx. 10 days from order date. You can purchase this wig on several web sites, including Amazon. The prices vary, but this wig usually runs around $100. If you watch for sales (around Easter, etc.) you may be able to find it cheaper.
My Opinion:
I love it! It's cute, sassy and so easy to style! I was a bit nervous about the color. When you look at a 1 x 1 square for your color on the web sites, you really have to try and picture the wig in that color and it isn't easy. I always look up the color and wig on Youtube to see the wig on other people and under the different lighting. That does help me with deciding on a color. This color, Almond Spice, ended up being a gorgeous color and works well with my skin tone! Score!
Disclaimer: I purchased this wig with my own money. I'm not getting paid or get anything in return for this review. All opinions are my own.