Yesterday, being the wonderful wife that I am, decided to help my husband out and mow the lawn for him so he wouldn't have to that night after work. We have a John Deere rider so it really isn't hard and I enjoy doing it, shhhhh. Well, I had just finished hanging out a load of clothes on the line, then hopped onto the lawn mower to begin. As I am coming up to the clothesline, I put my arm out to move the clothes out of the way, and my husbands jeans decided to attack Mr. John Deere. The jeans swooped up into the lawnmower and then the engine quit. I was so worried that I 'hurt' the lawn mower but the jeans, of course, got the raw end of the deal.
After untangling the jeans from the blades of Mr. John Deere, I proceeded to hang them on the line ...... for show I guess.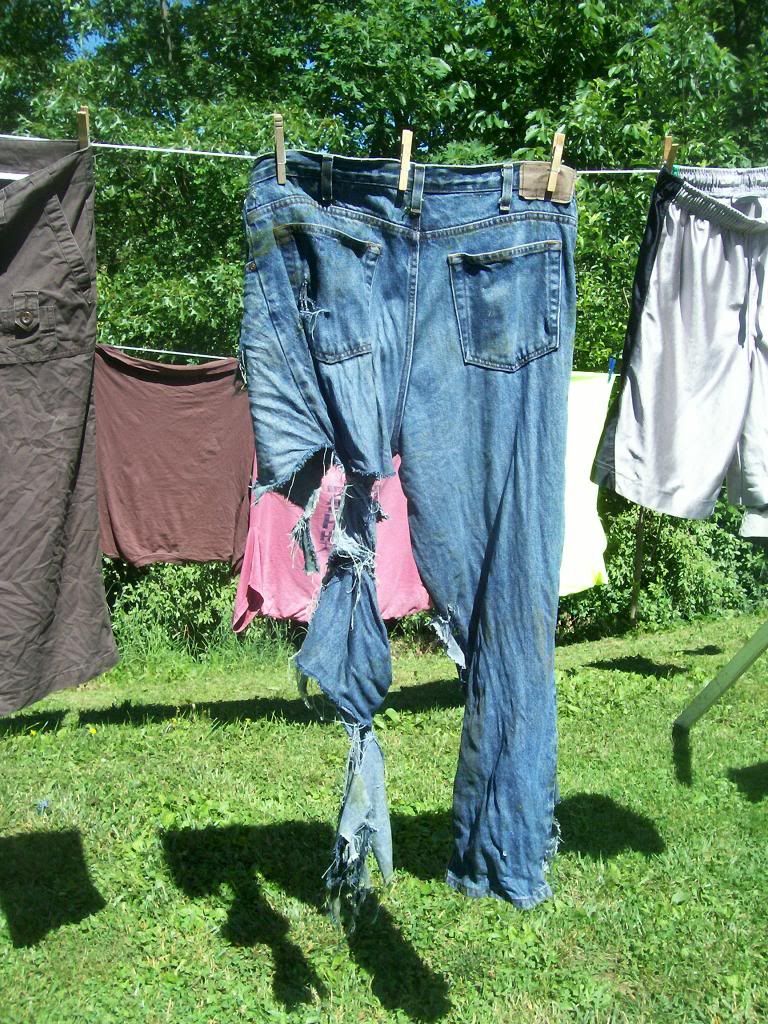 Doubling over with laughter (now that I know the Mr. John Deere was fine) looking at what was left of the jeans, decided to leave them there until my husband returned home that night.
When my husband returned home, I walked him out to the back yard and proceeded to tell him that I had a small issue with the lawn mower that morning. I told him that it and the clothesline had a fight and the mower won. He looks at the line and says nothing. I see the grin coming over his face, so then I said, "I can sew them for you if you want". lol.
I am so glad my husband has a wonderful sense of humor. He says, "I did need a few more pairs of jeans. I guess I definitely need to buy them now".
I love my hubby. He knows that this is life and is so thankful that I am helpful.....even when I mess up a time or two. :)