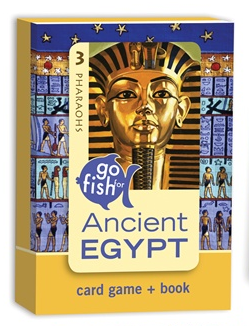 Price: $10.95
Recommended for ages 7 and up.
What Is This? -
This is not just your ordinary 'Go Fish' game. It teaches facts about Ancient Egypt using strategy and memory skills
with each and every game played.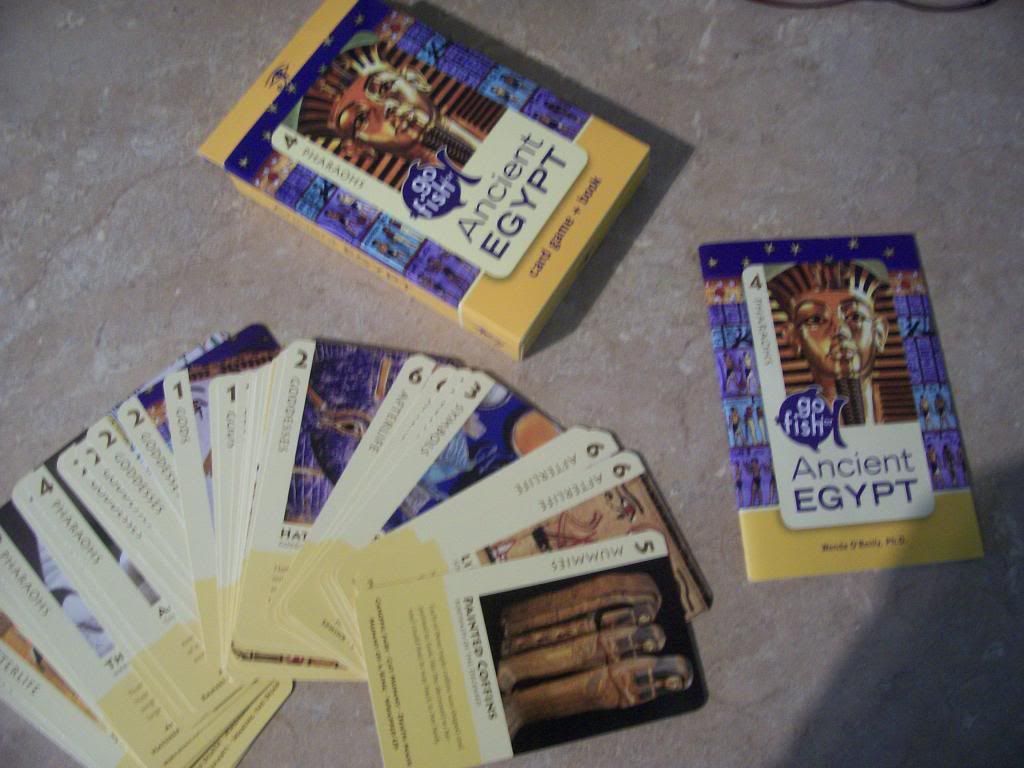 Pictured above is the playing cards & book that comes in the set.
Each card has an Egyptian symbol with a word and it's meaning. The cards have clear text and very vivid, colorful pictures.
The cards have 7 categories.
Gods
Goddesses
Symbols
Pharaohs
Mummies
Afterlife
Hieroglyphs
For example, this card pictured below is in the
'Symbols' category. The symbol is 'Scarab'.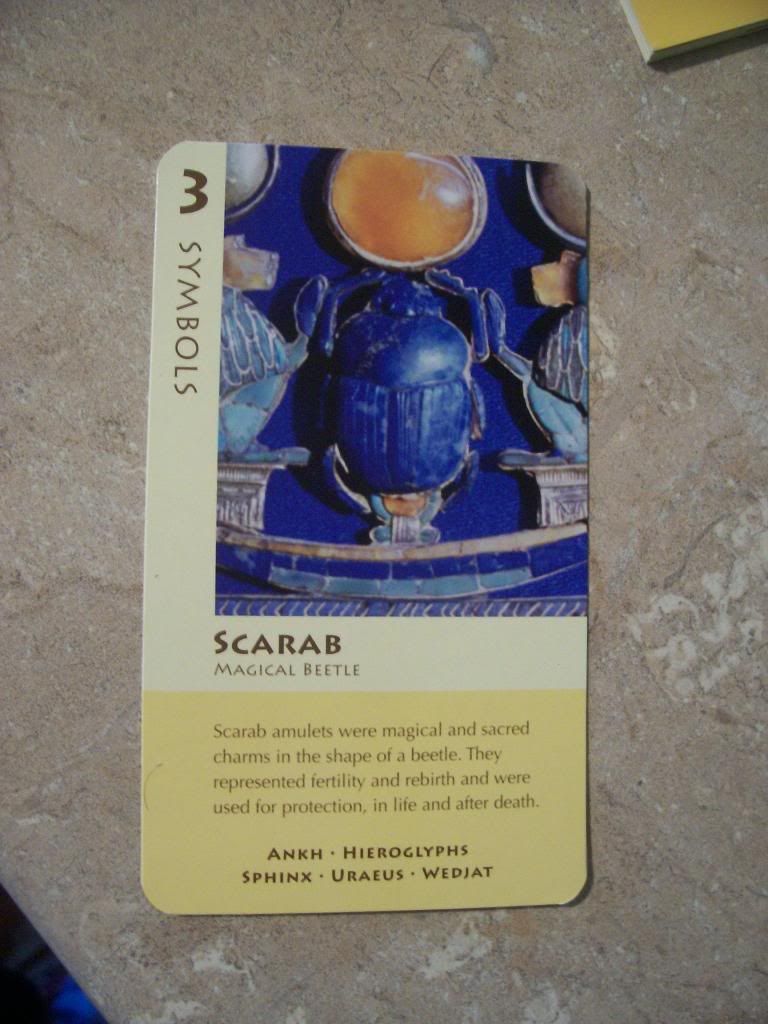 Below the picture on the card, is the description and definition. Like this:
SCARAB
Magical Beetle
Scarab amulets were magical and sacred charms in the shape of a beetle. They represented fertility and rebirth and were used for protection, in life and after death.
Then it lists 5 other 'symbols' in the category. For this particular card, they are Ankh, Hieroglyphs, Sphinx, Uraeus, and Wedjat.
You can play the game a few different ways. You can play the traditional way of asking for just the category, which is 'symbols'. If your oponent has any of the cards in that category, then he/she hands over the card. Or you can be more specific and ask for a particular symbol. For example, if I had this card above, I could ask for any one of the symbols, like "Do you have the Sphinx card?". My opponent would respond. If he/she has the card, they hand it to me and if no, they would tell me to 'go fish' like the classic game.
The book that comes with the game contains what each of the cards are and their meaning also with playing directions.
How We Played / Used the Product -
I played this with my 10 year son and my 14 year old son joined in a few games. Each time a card exchanges hands, we would read the card aloud to learn about each one. We played the more extensive way being more specific on which card in each category we wanted.
This company has won several awards for their educational games. The Ancient Egypt Go Fish game has won the 2010 Parents' Choice Silver Award.
Click HERE to see the awards this company has earned.
What I Thought -
This was so much fun! My sons and I really like it. I liked that each card has complete details on what it represented. My boys loved it due to the Egyptian teachings. They both love to learn about how thee Egyptians lived and this was great! Each card was so colorful and fun! The text was clear and everything placed so it can easily be read.
This game isn't just for ages 7 and up in my opinion. My teen played it with us and it was so much fun!
This game puts a whole new spin on the classic Go Fish game! I highly recommend this to anyone looking for an educational game learning about Ancient Egypt!