I was sent The Presidential game for review.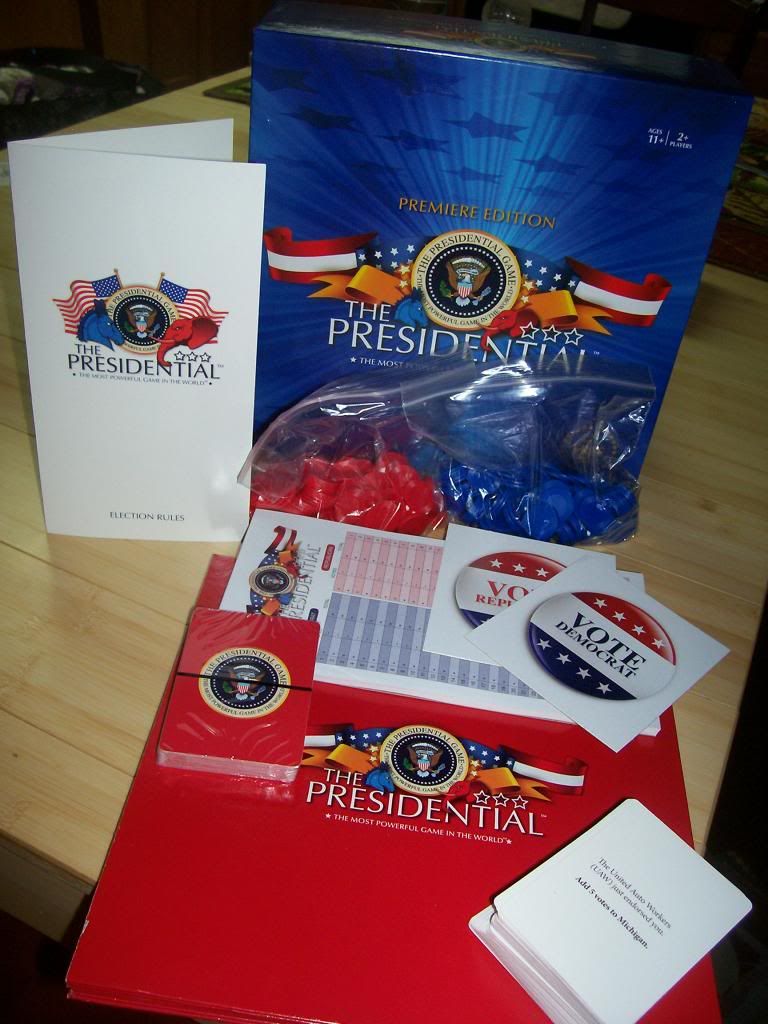 $35.00
The Presidential Game includes:
1 game board
2 'vote' cards (Democrat & Republican)
300 chips (150 red & 150 blue)
6 dice (3 blue & 3 red)
80 Politics cards
40 "write your own" Politics cards
1 Electoral WebMap Calculator Access Code
1 score pad
Note: The access code is for you to keep track of your electoral votes online as seen in the picture below.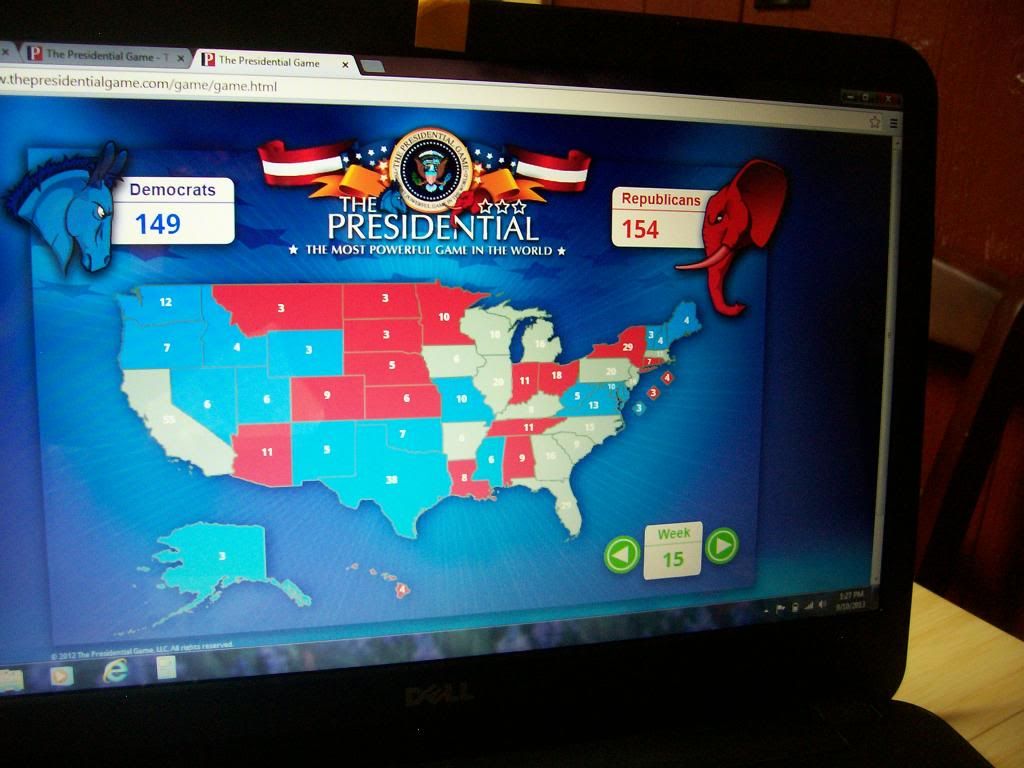 The score pad is if you choose to not use this access code as seen in this picture below.
What Is This? -
This is an educational board game about the elections: campaigning, fundraising and their electoral voting system. This game is recommended for ages 11 & up.
A little about how we played the game -
The game is played with 2 teams (or you can have just 2 players). One Democrat site and one Republican side. You decide on each turn whether you are going to campaign or go fundraising. Then you roll the three dice. The number of all three die indicate how many votes you get. If you are campaigning, you can choose which state you are placing your votes. If you are fundraising, you must place at least 1/2 of those votes (you rolled) to one on the 4 fundraising states. Then choose where the other votes will be allocated. Afterwards, you must select a 'Politics Card'.
That card give you some insight on what the media is saying about your election.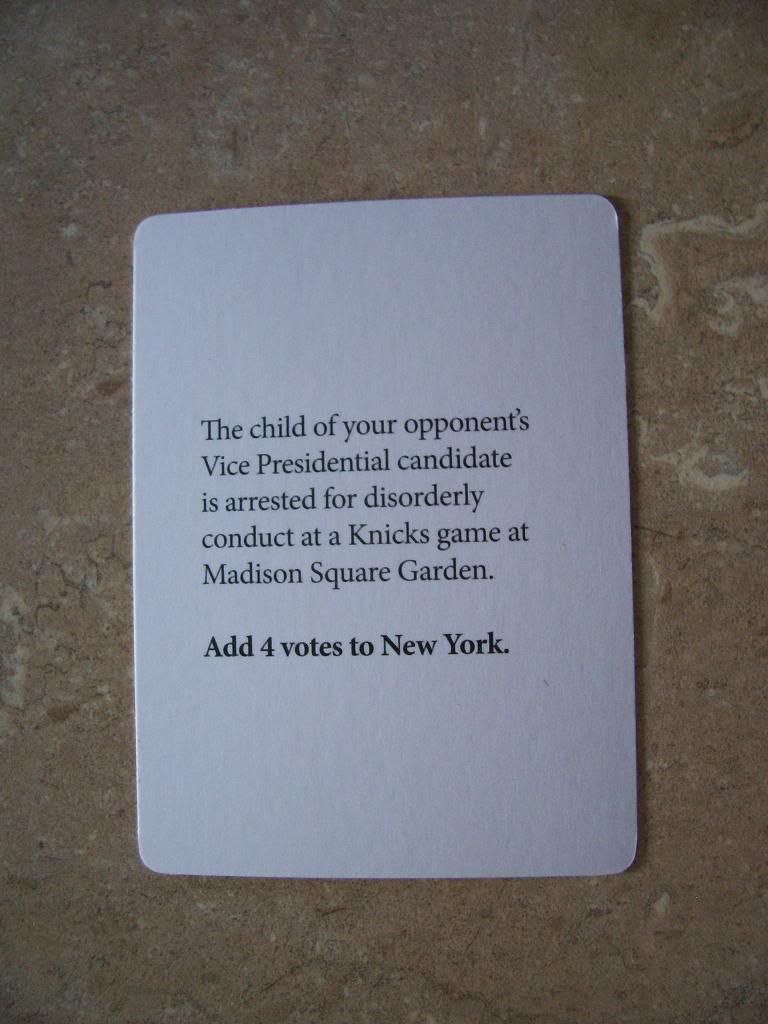 Here is what a card would say for example:
The child of your opponent's Vice Presidential candidate is arrested for disorderly conduct at the Knicks game at Madison Square Garden.
Add 4 votes to New York.
Some of these cards are pretty hillarious I must say.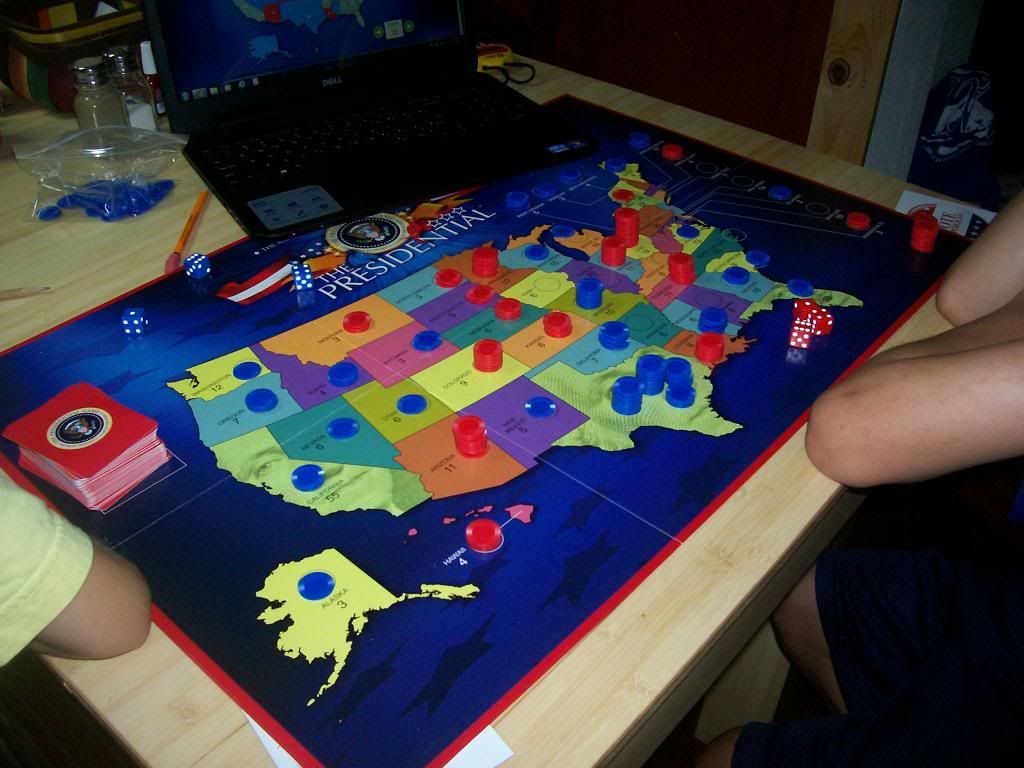 The picture above is what the board looks like half way through our game.
There are more details to the game, but I don't want to give you the entire gaming process. You'll need to play to find out for yourself!
We chose to use the online calculator access code to see our
Electoral WebMap. We can visualize what part of the country is Republican to Democrat here as well as keep track of our votes of course.
This game has won 'The National Parenting Center Seal of Approval 2013' award in both 2012 & 2013.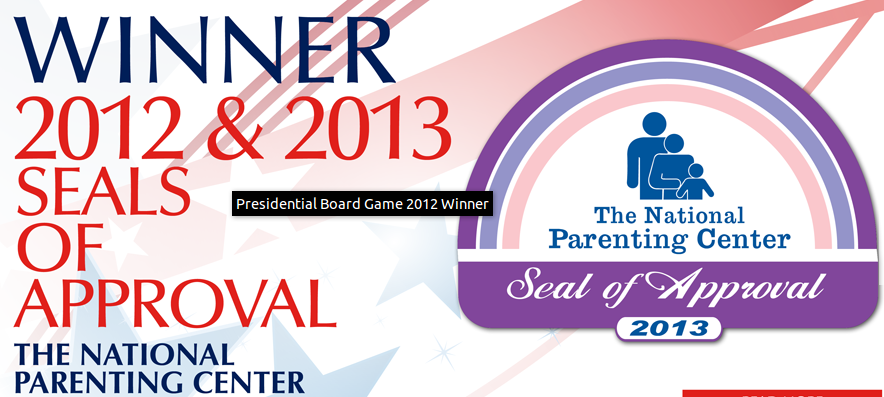 What I Thought -
This was a lot of fun and of course educational. It was really neat for my son to see the electoral votes on the online map. When you are watching in on TV, like this past year's election, it is hard to see the electoral map as a whole with all of the 'politic talk' on TV. For kids, this is boring (ok, for adults this is sometimes boring too). But this game, really put the electoral voting process in perspective. My older son is in high school and he thought it was pretty fun. My younger son played us a bit, as we talked him through the process, he thought it was pretty neat to see the map and all the votes get calculated on there.
I think this is a wonderful educational game to play with your kids with or without the online map. I always say that 'learning disguised as fun' is a great way to get through to kids! ;) I think that when we make learning fun (especially the things that may not be interesting to them such as politics) they retain more information.
I definitely recommend this to any homeschool family, private or public school class room to learn just how our voting system works!