I received the Homeschool Mom's Bible (NIV) from Zondervan for review.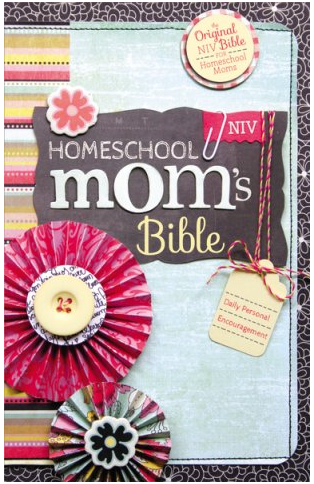 Price:$34.99
Hardcover - 1,536 pages. 365 of those pages are uplifting devotions for homeschool mothers.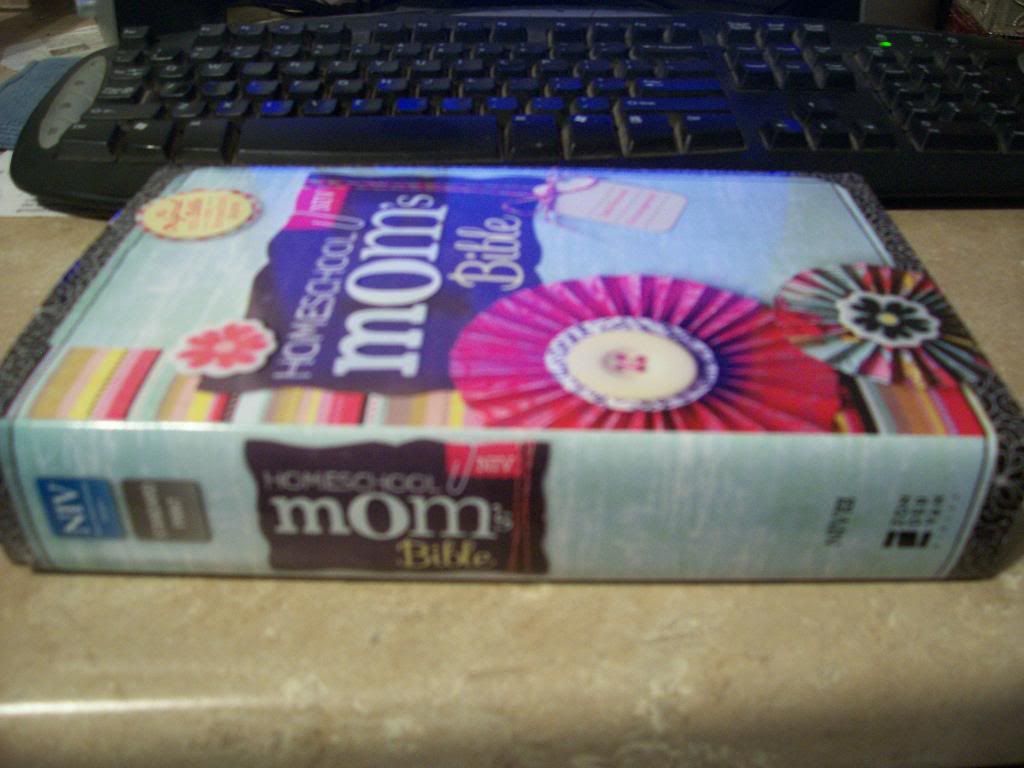 Click HERE to view 44 sample pages.
What Is This? -
This is the original Bible (NIV) for homeschool mothers. This Bible is special. It gives an uplifting, encouraging devotional for every day of the year written by Janet Tatman. Janet has four children and has more than 25 years of homeschooling under her belt. She has a great devotion filled with inspiration and encouragement for every day. She shares her homeschooling experiences to let all of the homeschool moms out there that we are not alone! Janet has also spent years writing the 'Daily Focus' at AOP (Alpha Omega Publications). She is a very wise and talented homeschool mother.
Every daily devotion has a scripture for you to focus on. She shares a little bit of her experience of homeschooling with you and then gives you a prayer prompt at the end that goes with that days thoughts and scripture.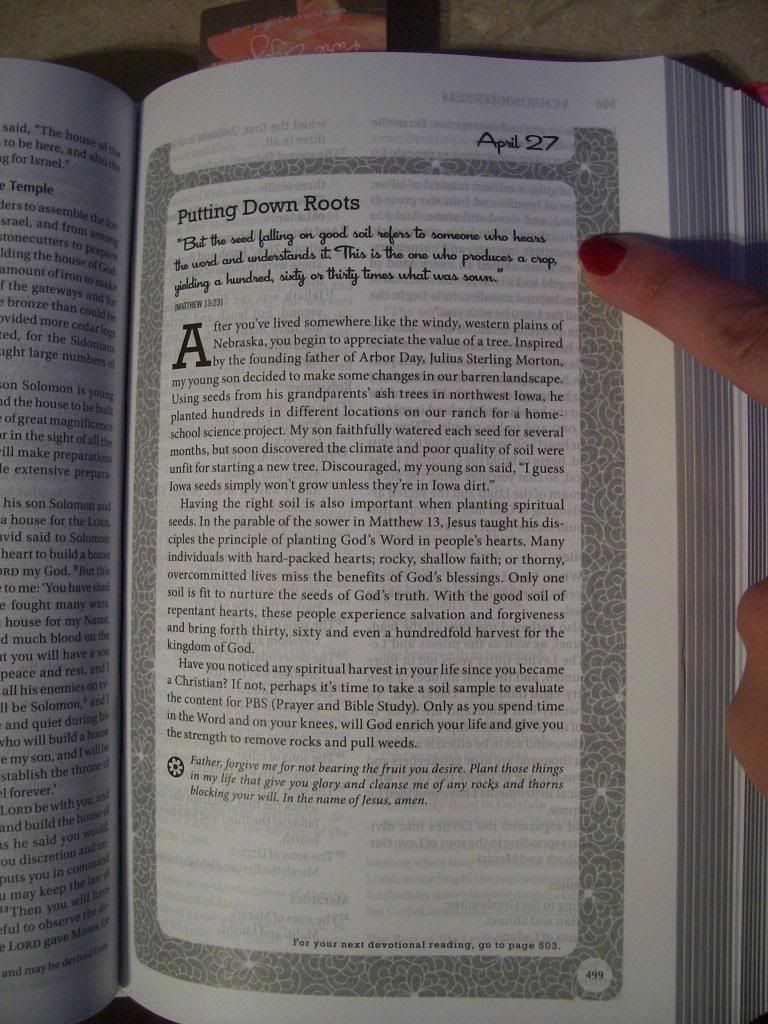 Some days you may not be able to come up with what you really need to pray about or talk to the Lord about. She gives you this prompt to give you a jump start on your walk with the Lord for every morning.
At the bottom of every devotion has the words 'go to' at the bottom so you can turn to that page for the next day's devotion.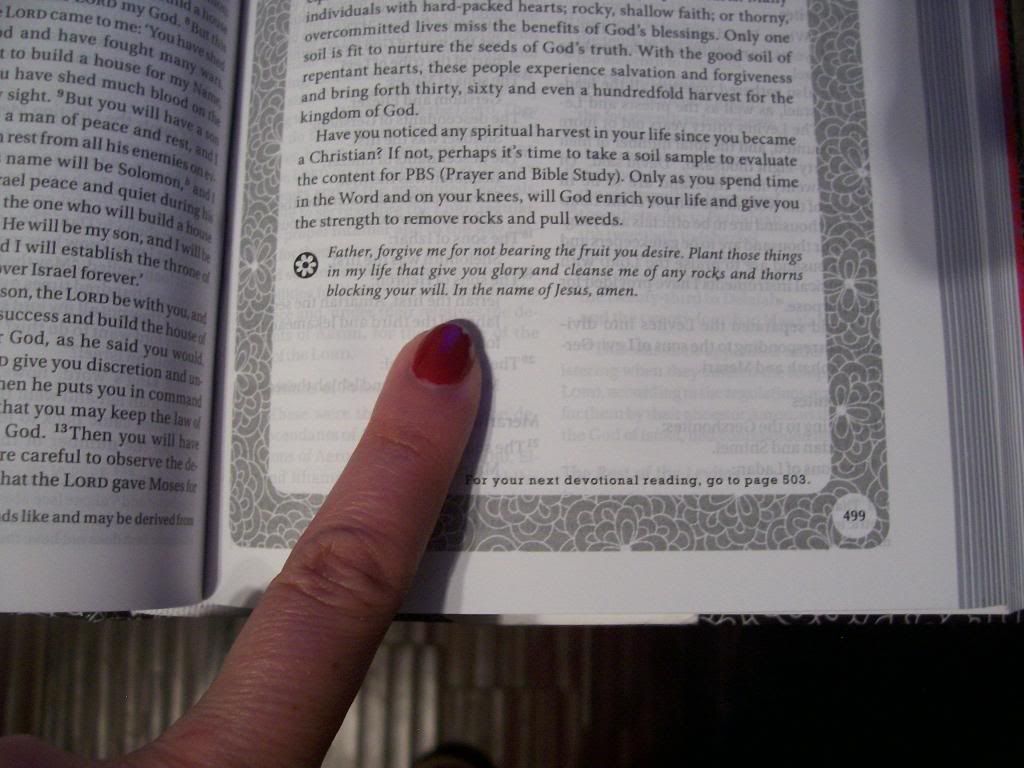 There are also pages in the back with a place to write 'notes' that you may want to write down in your Bible study.
The foreword of this Bible was written by Vickie Farris. She is the wife of Michael Farris, who is the founder of HSLDA (Homeschool Legal Defense Association.) She has some great words of compassion and wisdom. She shares with you the challenging, but fulfilling, life of a homeschool mother. She has ten children that she homeschools. She has some great insight and advice for all the homeschooling mothers out in the world.
What I Thought -
I have to say that I was so excited to get this for review. I have been looking for a devotional to help me get my day started for some time. As a homeschool mother of two high energy boys, most devotionals just couldn't relate with what I was going through or what I was feeling. I feel that homeschooling is a reward from the Lord but it is also a challenge as well that not many mothers can relate to unless you are in the same situation. These devotionals have really inspired my homeschooling this year. I look forward to my time with the Lord every morning before I begin my homeschool day.
I blogged about our first week of homeschooling a few weeks ago and mentioned that I had the 'key' to a successful homeschool. I couldn't reveal what that 'key' was then, due to the review wasn't out yet, but I said that I would mention it when I could. This BIBLE is that 'key' to my successful homeschool day! Of course is isn't just the Bible, but it is the time with the Lord and this Bible has given me that inspiration to spend that special time each and every morning to start my homeschool day off right!
So if you are looking for someone to encourage you, relate to what you are going through, and looking for that special time with the Lord..... this Bible is what you really need. I would highly recommend and encourage every homeschool mother to have this book in their everyday lives! I wish I had this when I started homeschooling 10 years ago!
I give this special Bible an A for AMAZING !