Price: $49.99
Sale price of $39.99!
Ideal for ages 6-12 yrs. DVD indicates ages 4 and up.
The Starter Set Learning Set includes:
A carrying case
Chess mat
2 sets of game pieces (1 extra Queen for each player)
The DVD (containing 6 levels)
instruction booklet
A shoulder strap for the case
Note: You have your choice of color for the carrying case. The color choices are: black, green, navy, tan camo, or green camo. (Ours is black, pictured below.)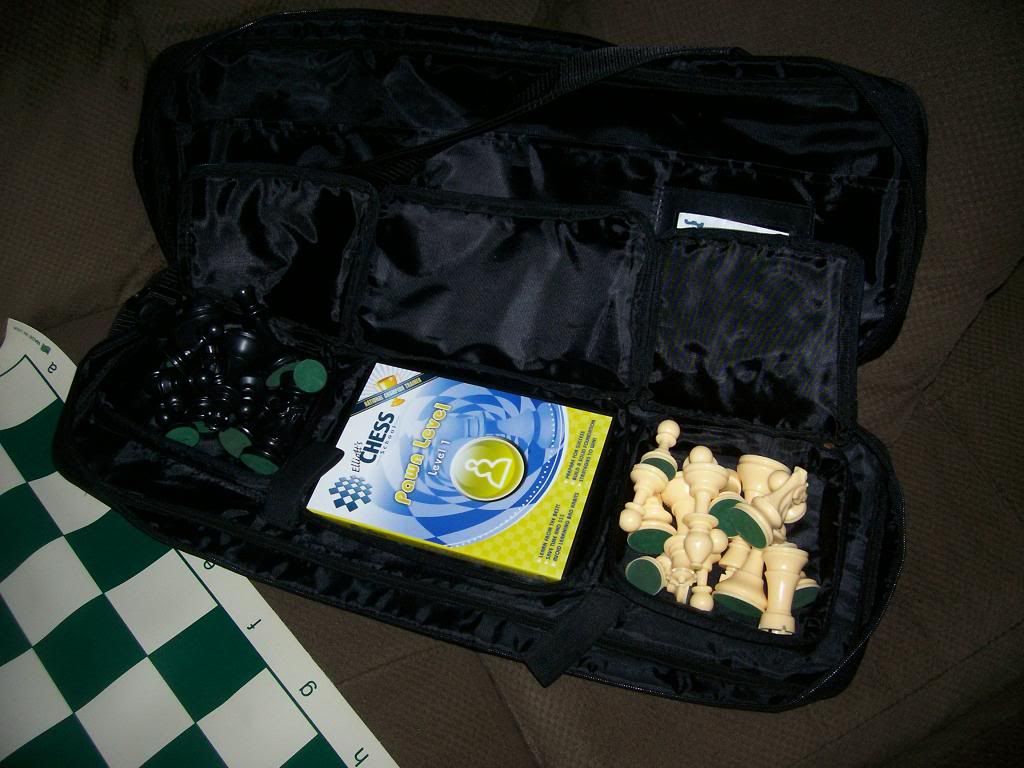 What Is This? -
This isn't just a play 'Chess Set'. This is a Chess learning
set.
This comes with a DVD that teaches you step by step how to play the game. It explains and teaches what each piece is and how to use it in the game of Chess. In the DVD, the instructor gives you scenarios on moves and what effect it will have in the game. He gives you tips on how to use these pieces to your advantage and hopefully beat your opponent!
How We Used It -
I have to admit, I am NOT a chess player. I have never been interested in the game, but my boys love it! I have three sons. My youngest son, who is 10 years old, received this for my review. Within minutes of delivery, he had the DVD in the player, the chess game set up, and he was ready to learn.
There are 6 levels to the DVD. The levels are Pawn, Knight, Bishop, Rook, Queen and King.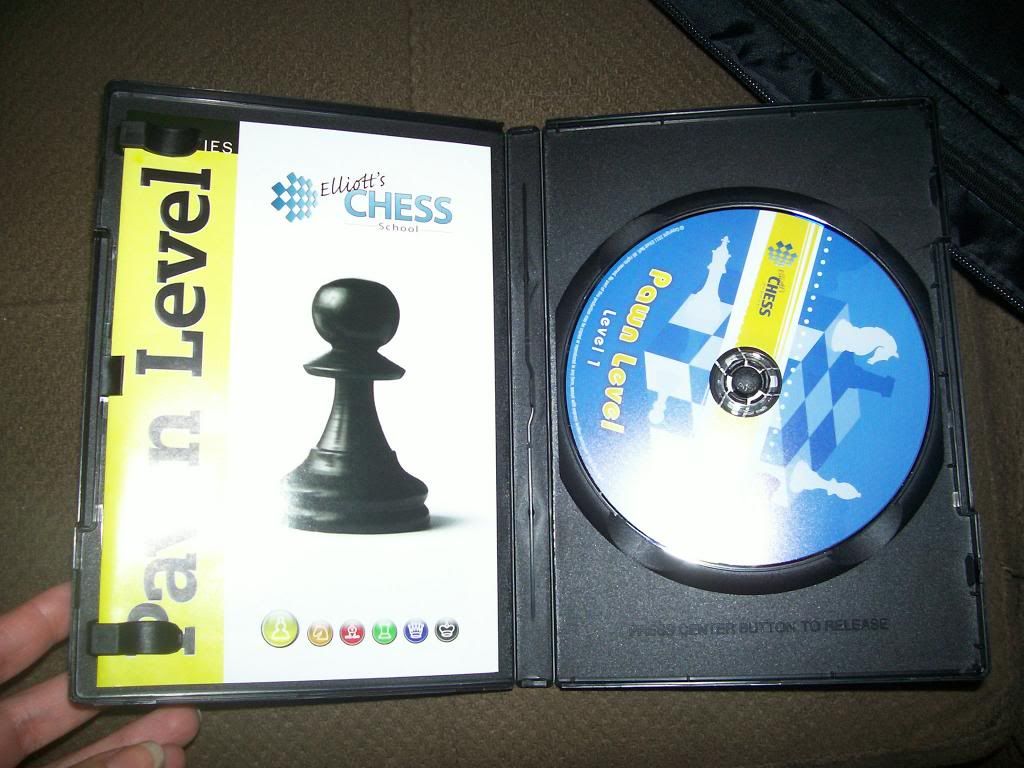 He has played this game with his older brothers in the past, but lets face it, they are not going to teach him everything about the game because they love to win! He watched this DVD and followed the instructions step by step. During the video, he says, "Mom, I didn't know you could do that"! He was very excited about learning new things about the game.
After watching the video, he played this game with his brothers again and even taught them a thing or to. ;) Then, being the good mom that I am, decided to let him teach me. (Hee,hee.)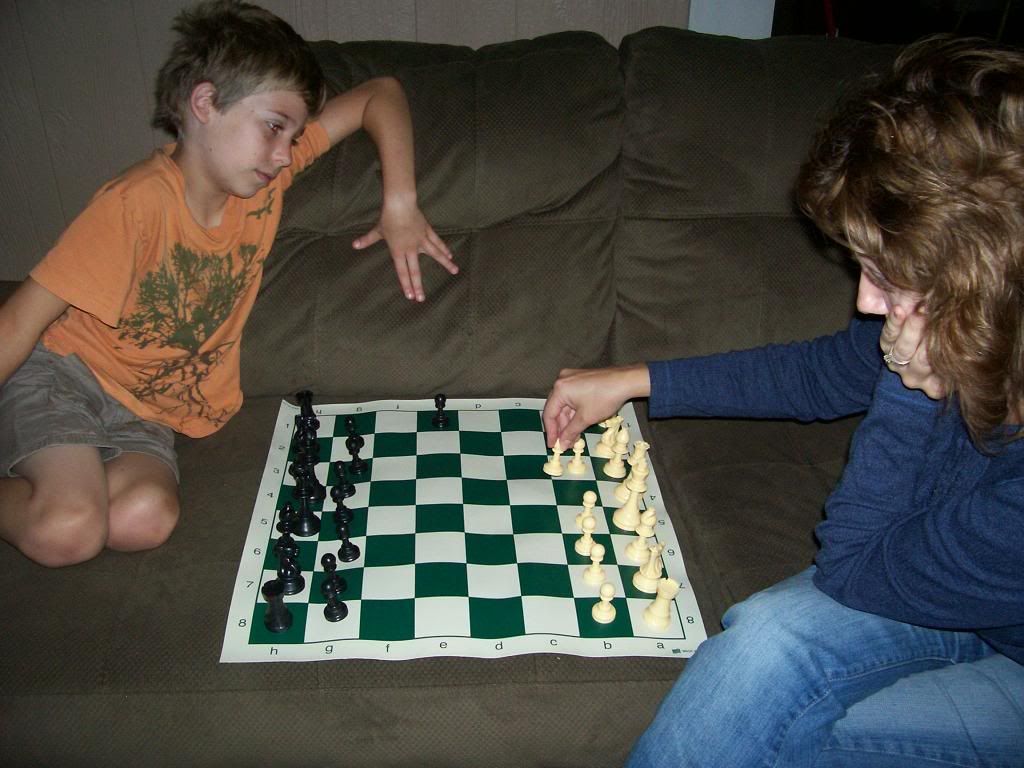 He is a very good teacher! I was very impressed on how much he knew and how well he was applying it to each game played. So I did learn how to play the game, but I have to admit, it isn't my favorite game. For those who like the game however, this would be great to freshen up your skills! For those of you who want to learn how to play.....this is great!
Below is another picture of what the case looks like from the inside. It has 3 different compartments that zip. The two smaller zip compartments are for the pieces. The one larger zip compartment (in the middle of the other two) is for the DVD. The mat is easily folded up and placed in the top open compartment (see picture).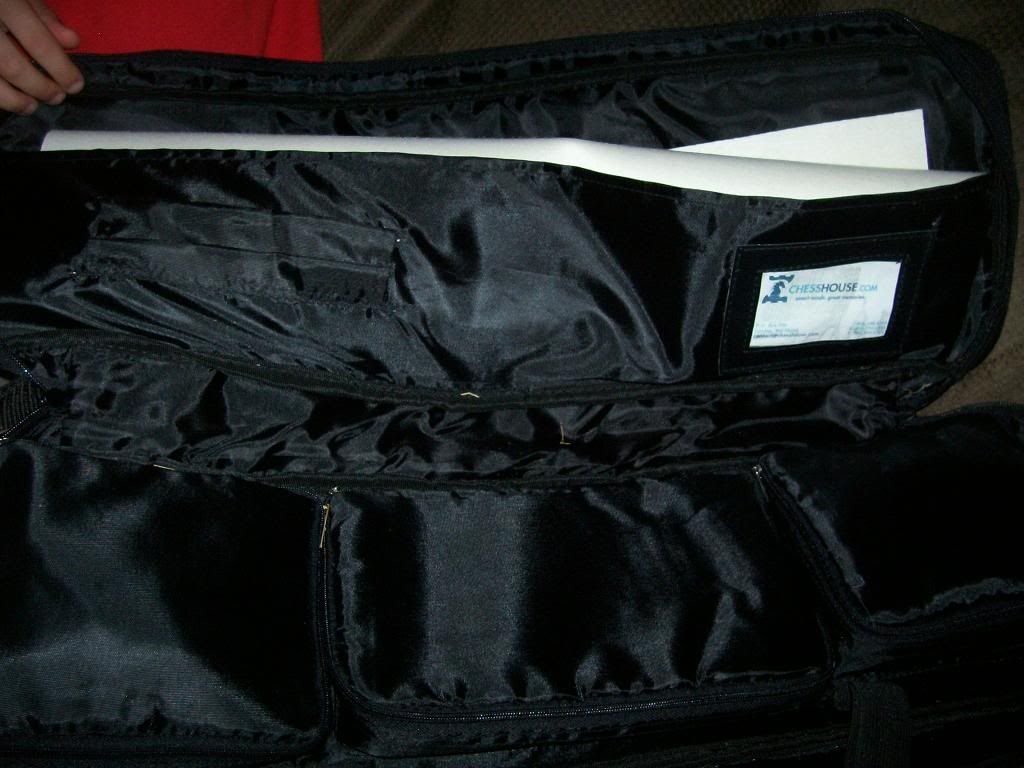 What I Thought -
This is great! My son just loves it! He takes it with him to several places. With the case and a compartment for each and every thing, it is very convenient to take with you.
A few weeks ago, my son was hurt so he couldn't play soccer for a few weeks. I made him go to the the games anyway, to be supportive. He took this Chess set along and had it all set up on the sidelines. When the other kids (between games) seen the set, they came over and wanted to play. It was a big hit!
Overall I would highly recommend this to all who want to learn how to play or want to learn more about the game of Chess! Great job Chess House!