This review is brought to you by Uniwigs.
in color AL01003-01R (Almond-Frost)
My excitement couldn't be hidden! hee,hee.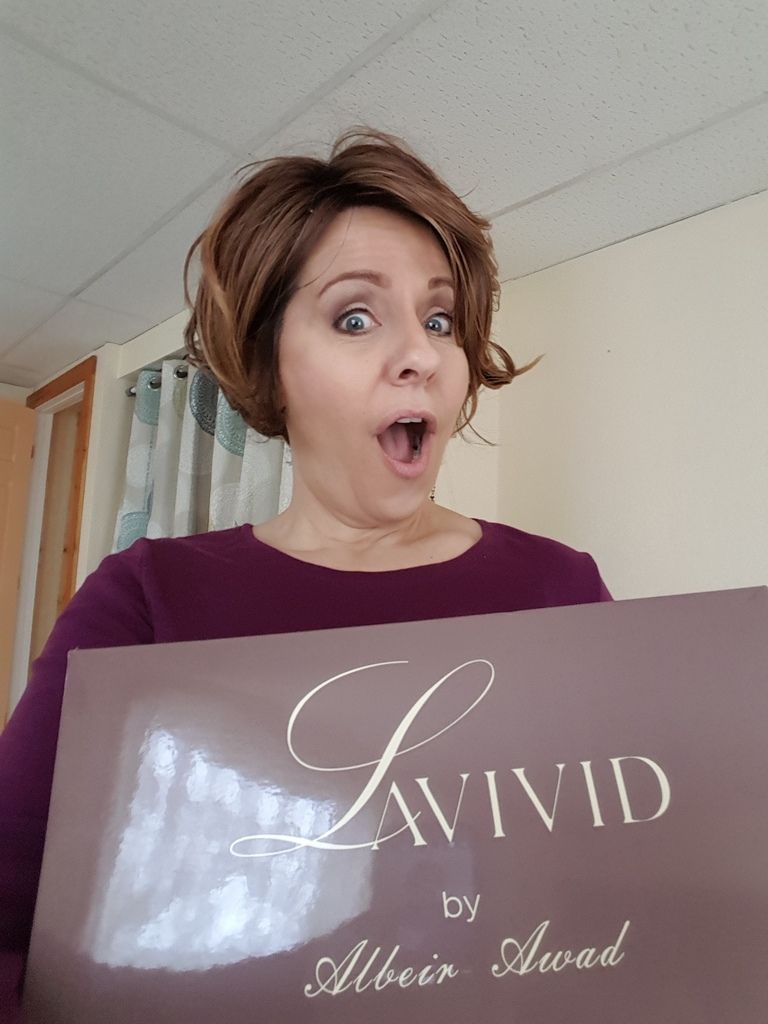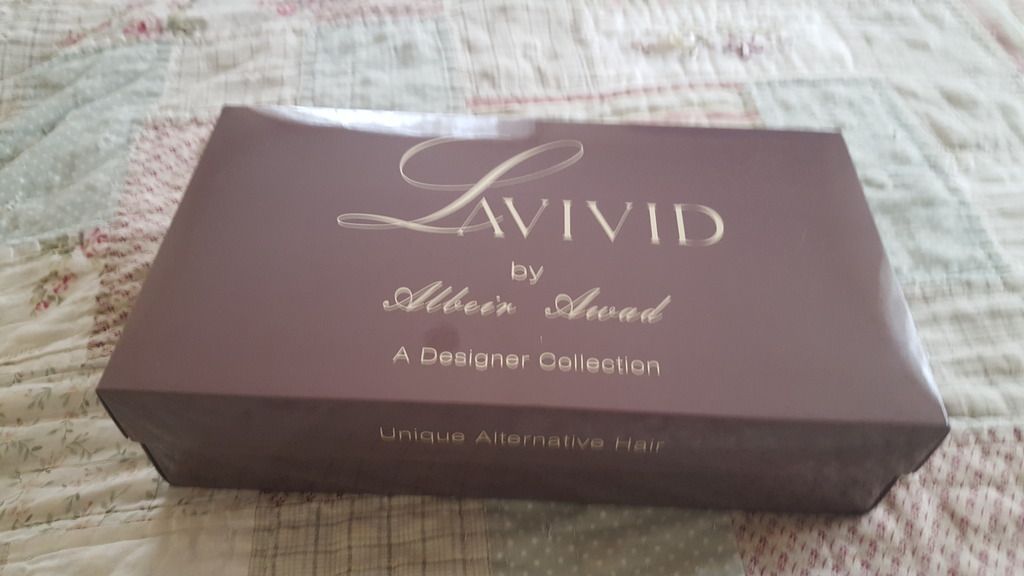 It came by FedEx in a very nice box along with a few gifts.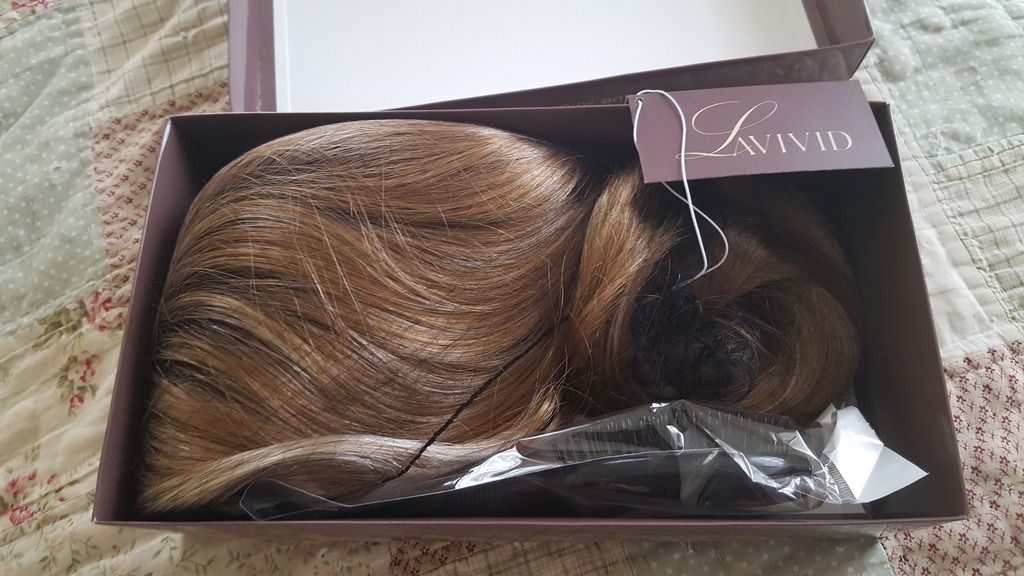 The gifts included a wig cap, some sew in clips and a nice special brush for this wig.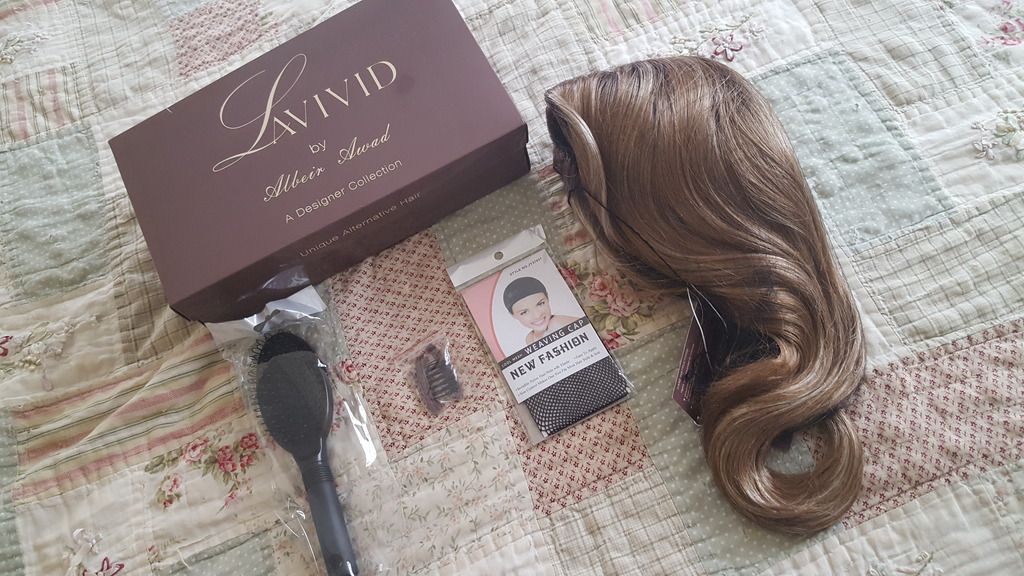 The tag has the Livivid logo, wig name and color.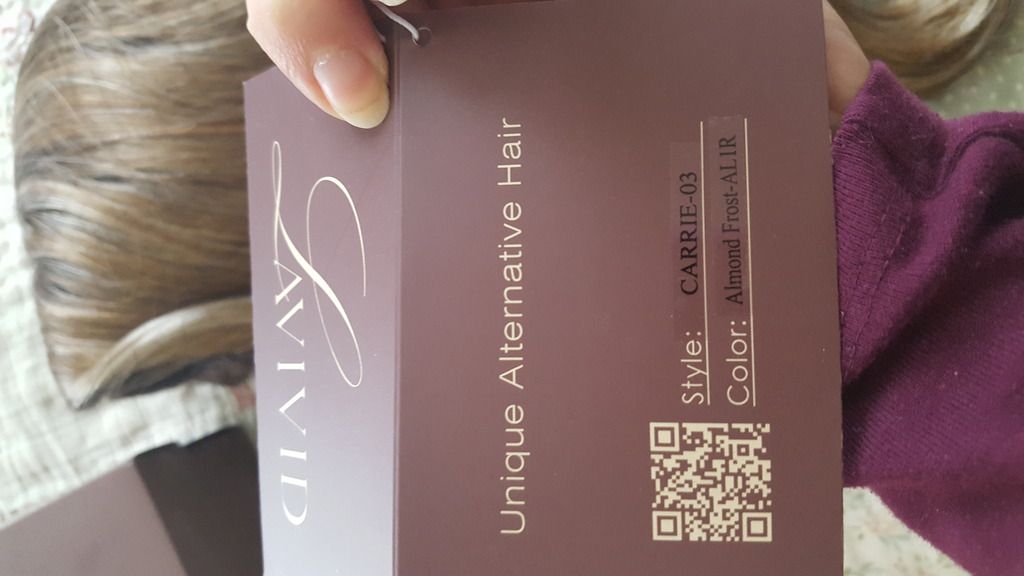 On the inside of the tag
there are care instructions.
Note: This wig is NOT heat resistant.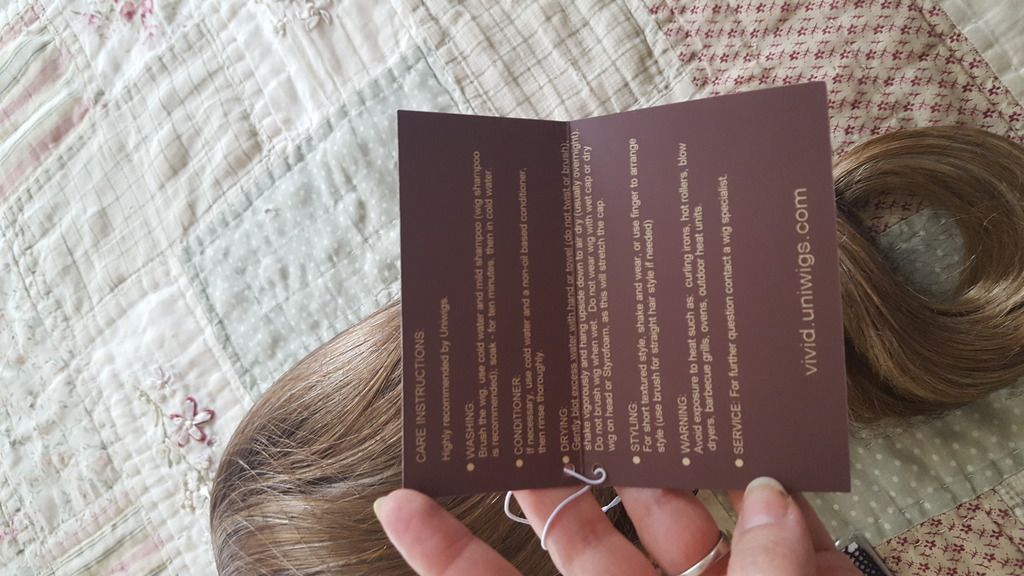 Cap Construction:
The inside cap has 2 adjustable straps for comfort. The cap is very soft, not scratchy at all. They have ear tabs that fit securely in front / above the ears. There is metal inside each ear tab to bend so the wig fits securely at the sides.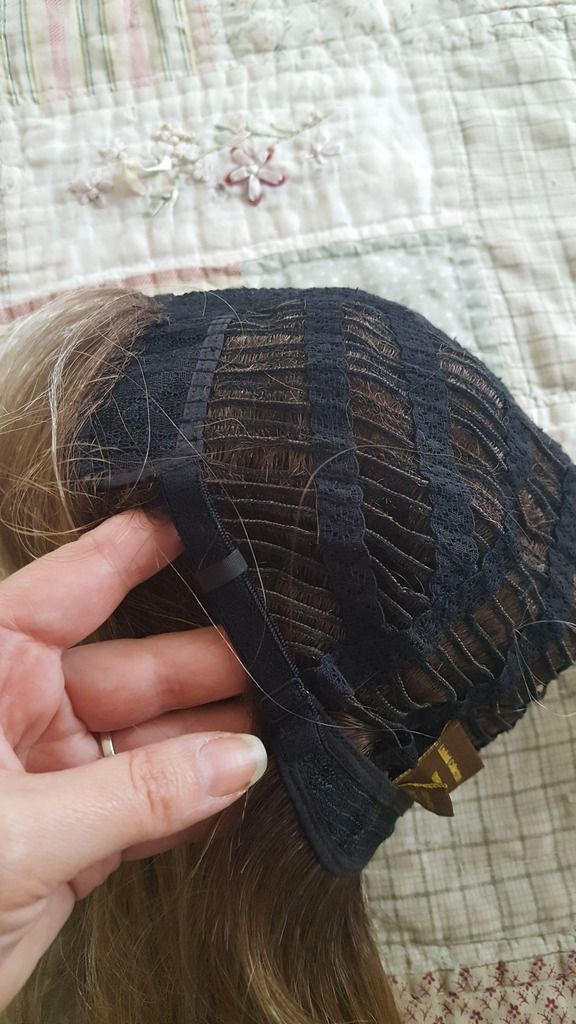 The back piece that is at the nape of the neck is very soft. I've had other wigs (not from this company), that have been scratchy and itchy. This is not! Again, very soft and comfortable.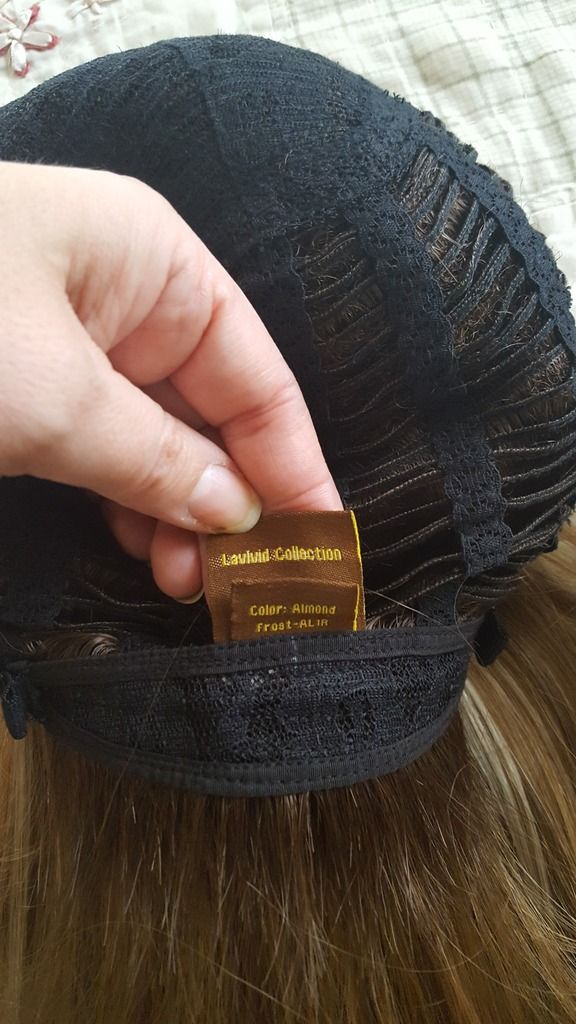 The top inside is closed with a soft flower net material with some permatease for some mild lift. There isn't too much permatease, just the right amount for the perfect body and lift at the crown.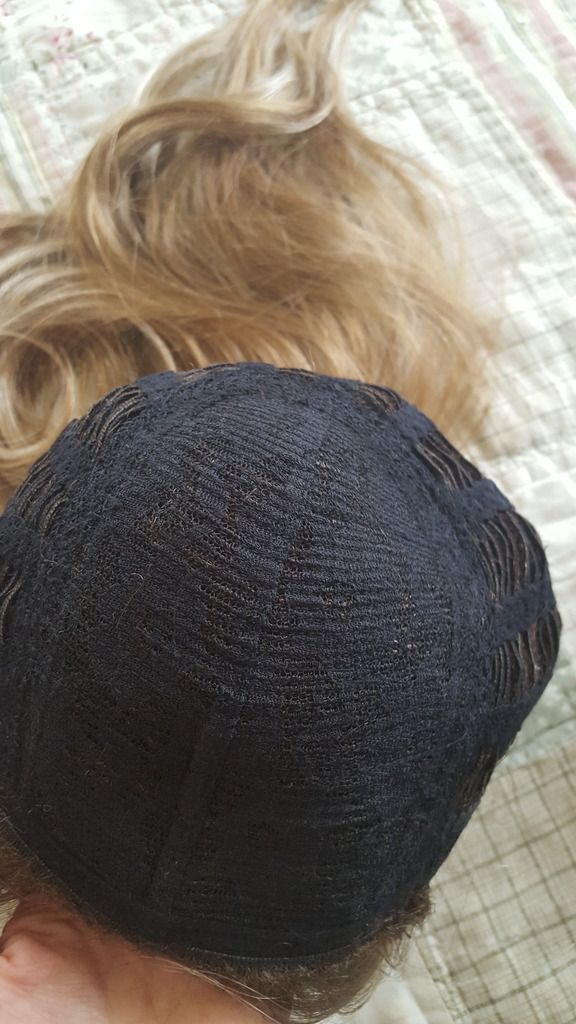 Wear/Styling:
Oh my goodness! This is right out of the box! I gave it a shake and then put it on. This is before any finger combing, styling or brushing! I am very impressed! It honestly looks like model hair!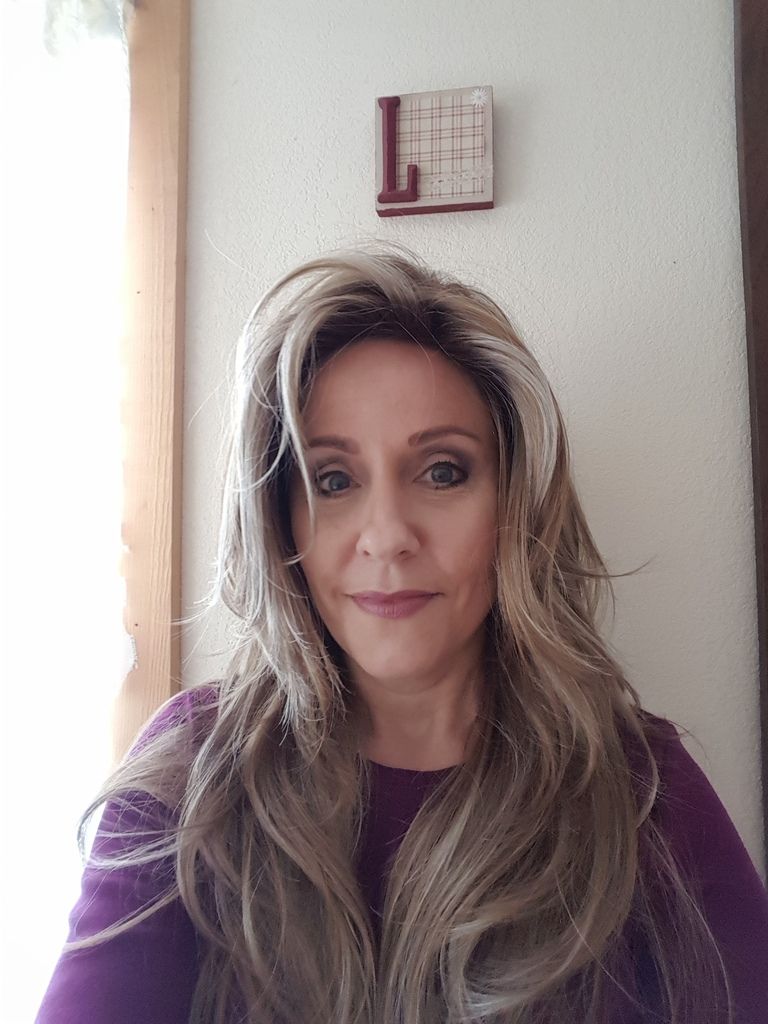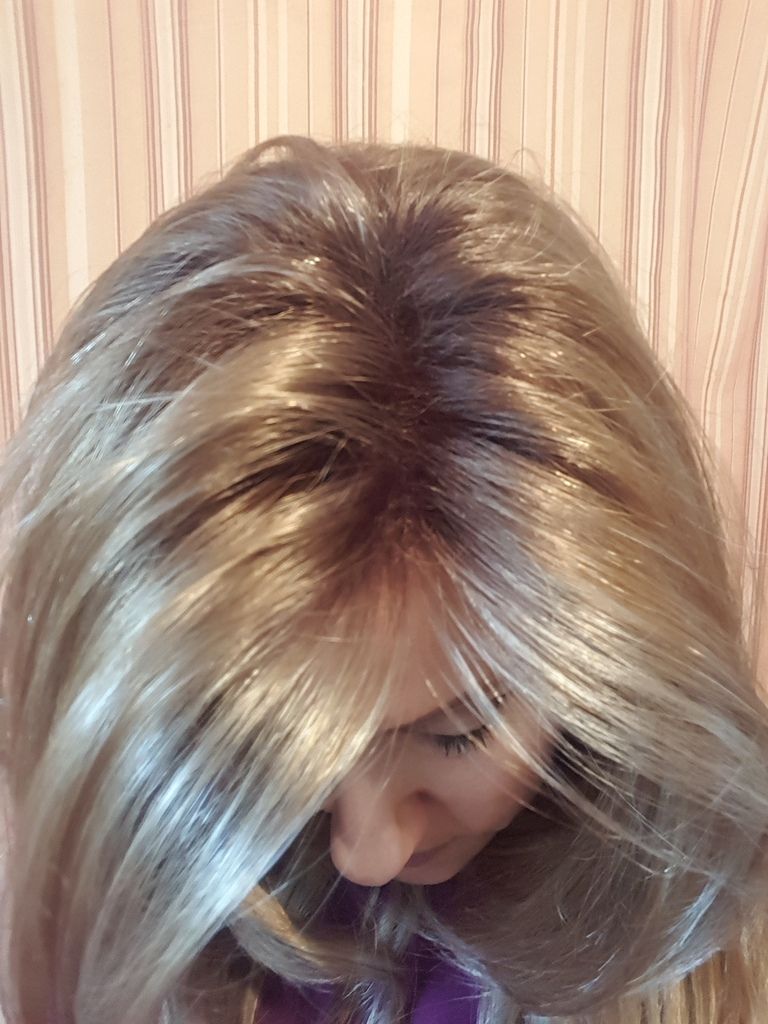 This wig has dark roots to make it look natural. I have dark hair so I could pull some of my bio hair out to blend it and then I could wear this wig pulled up and back away from the face. It has beautiful blonde highlights! (The wig is NOT shiny at all. In the pics it looks like there is shine, but that if from the camera.)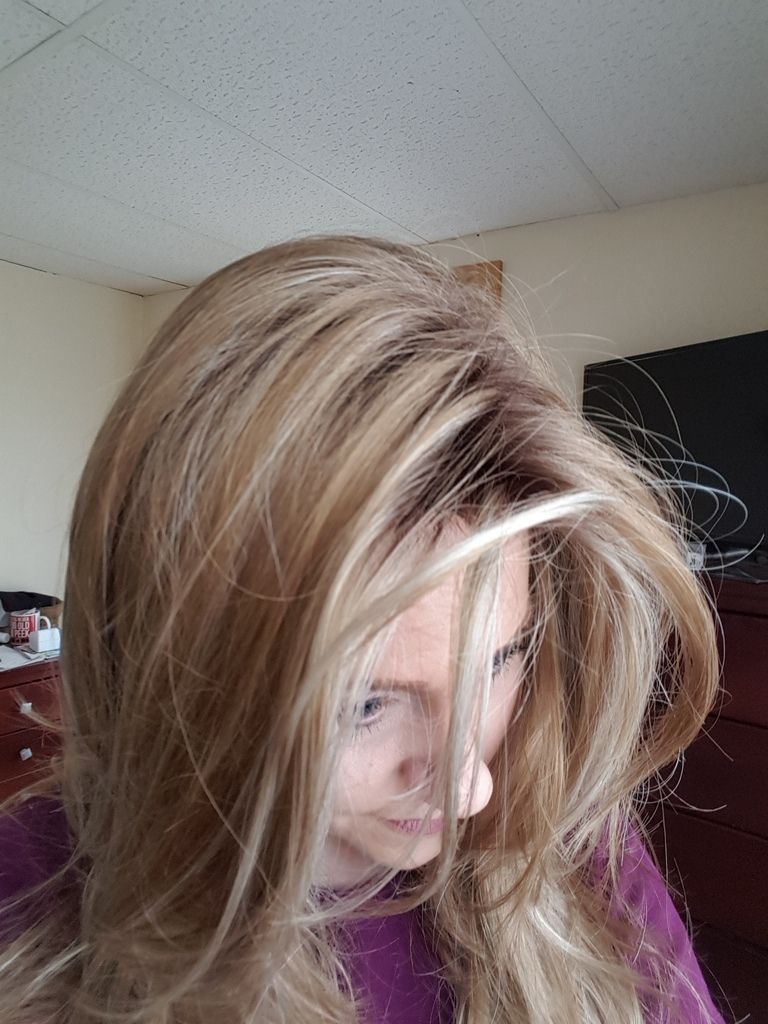 I can style this many different ways as seen below.
I can just pull back the top, front sides......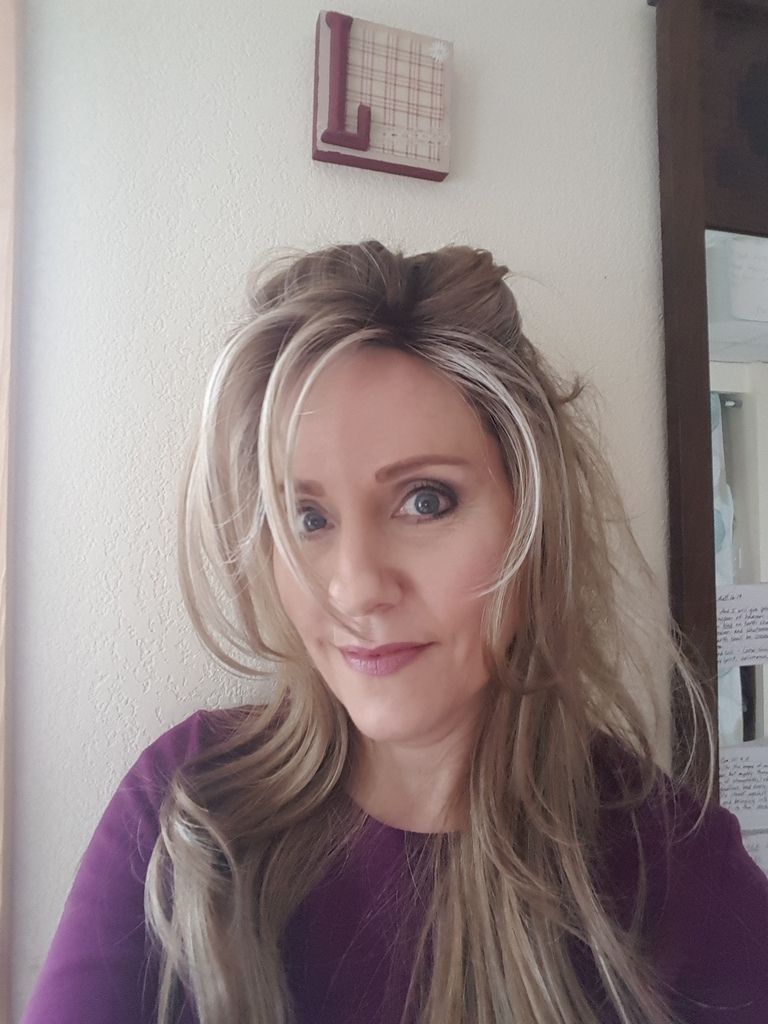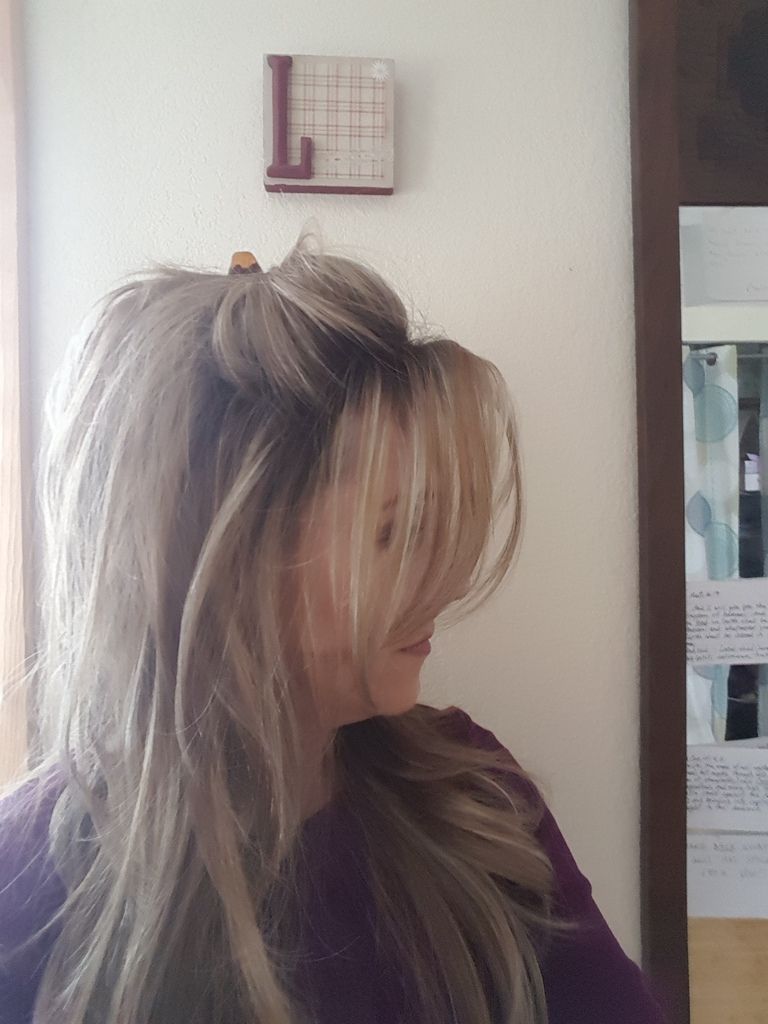 ......or I can pull up all the sides..........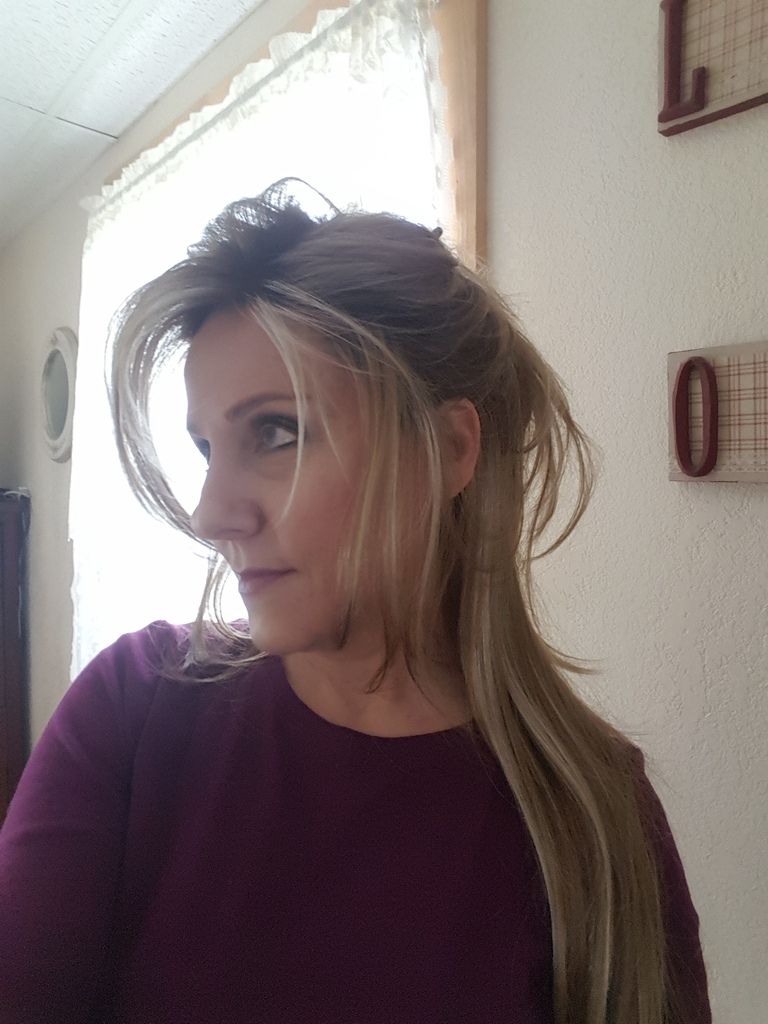 ...........or I can put it in a low pony..........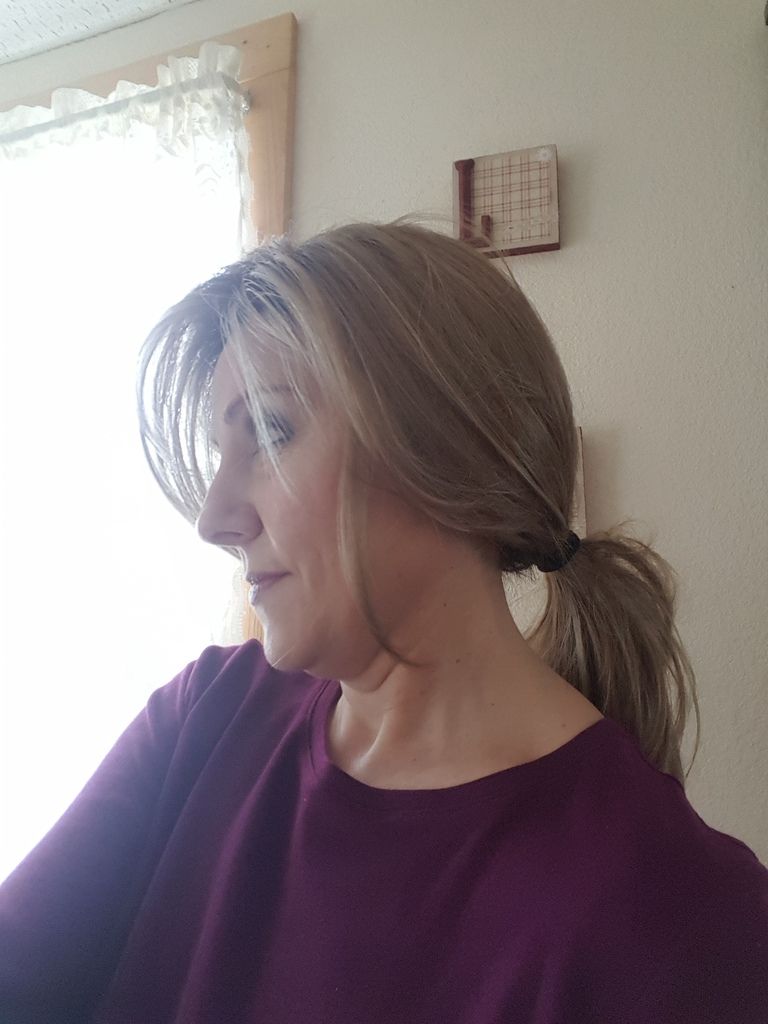 ........ and it look gorgeous with a small piece pulled up with a small clip......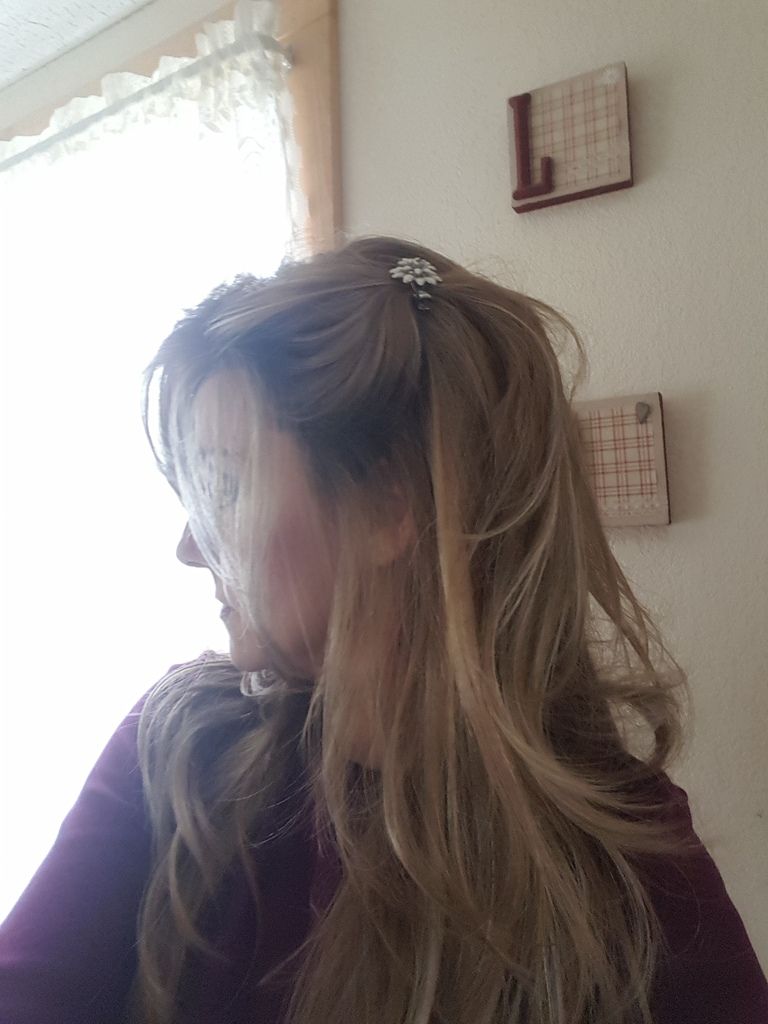 ........or with a winter hat or camo cap.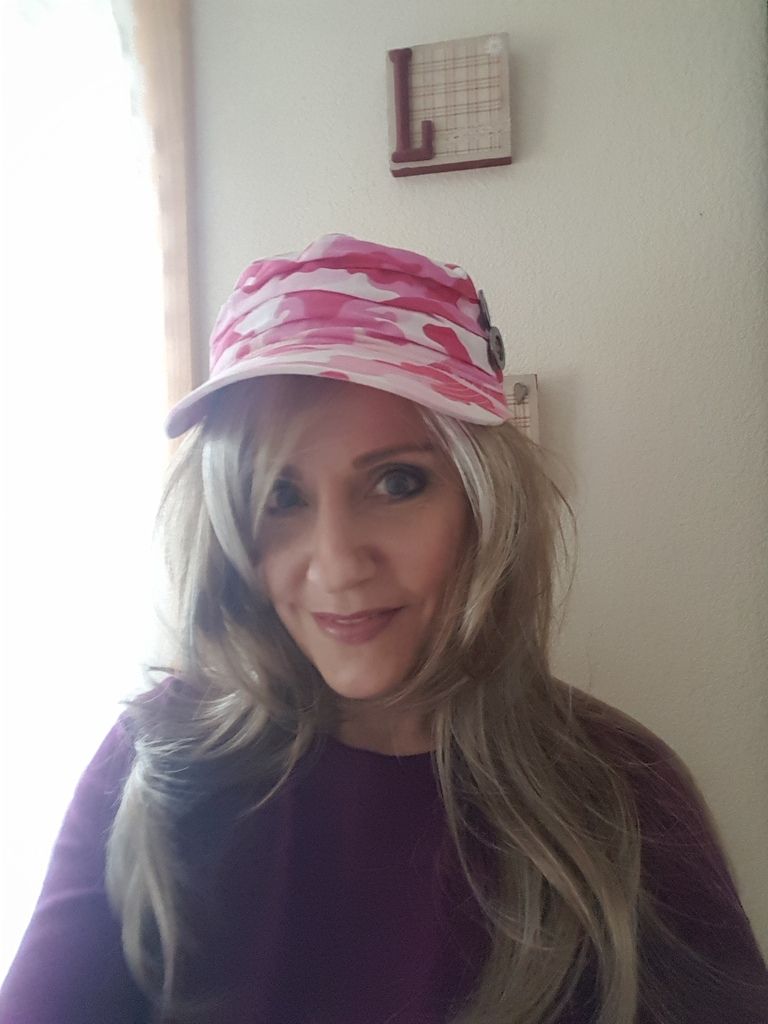 Feel/Texture:
This wig feels and smells like REAL HAIR. I have never had a wig smell so nice! It smells like real freshly washed hair and conditioned for softness.
It has just the right amount of hair in this wig, not too much to make it look thick and not too little to make it look thin. It's constructed with the perfect amount of hair and the layers are beautiful! The front layer, bang area, come down to my chin. You could have your stylist cut them shorter if desired.
Also, the wig length is very nice as well. I am 5'2" and the back comes down just past my bra strap. You could have it trimmed by your stylist if the length is too long for you.
You can also change the part easily. You can part it in the middle or either side. The wig is very easy to manage.
Comfort:
The wig is very lightweight and very comfortable.
Customer Service:
I was in contact with "Kelly" from Uniwigs.com several times in regards to this wig and the review. Every email, every question was answered the same day! Excellent customer service! You definitely want good customer service in case you do have any issues. This company stands behind the wigs they sell. I would highly recommend Uniwigs.com for your wig purchase(s).
Options:
The Lavivid collection has 7 styles to choose from with Carrie being the longest.
You also have 5 different colors to chose from!
The colors are:
Almost-Frost (which I purchased and shown in this review)....
Light Brown......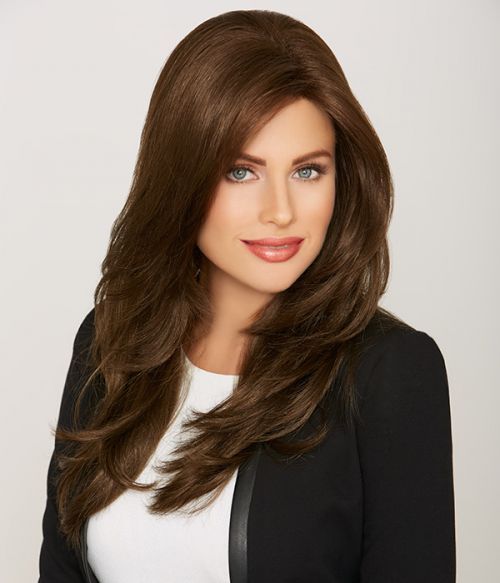 Shadow-Chestnut......
Macadamia (platinum blonde)......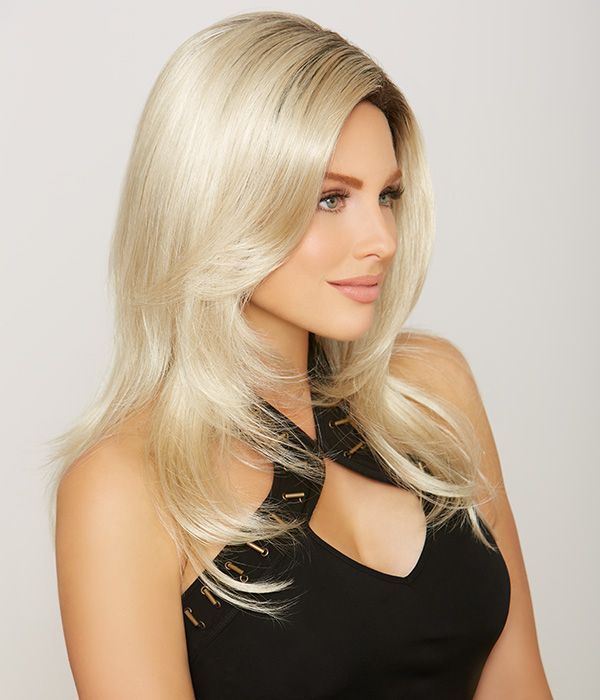 Chocolate-Caramel (gorgeous brown/auburn with blonde highlights).......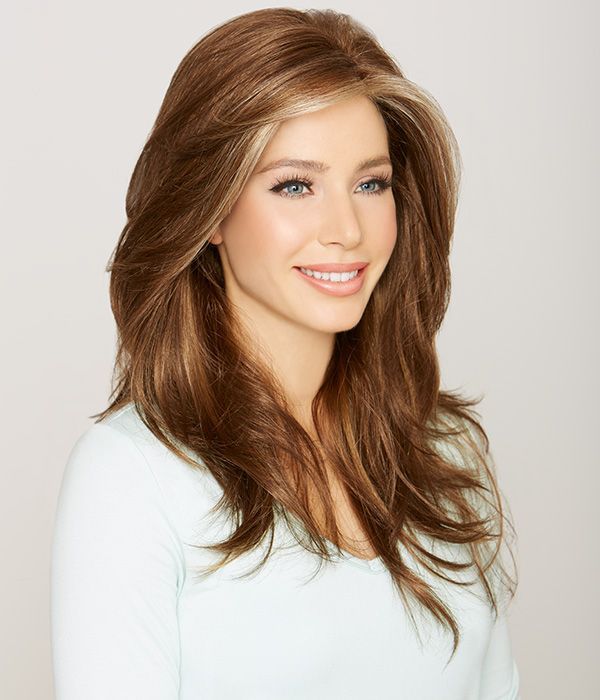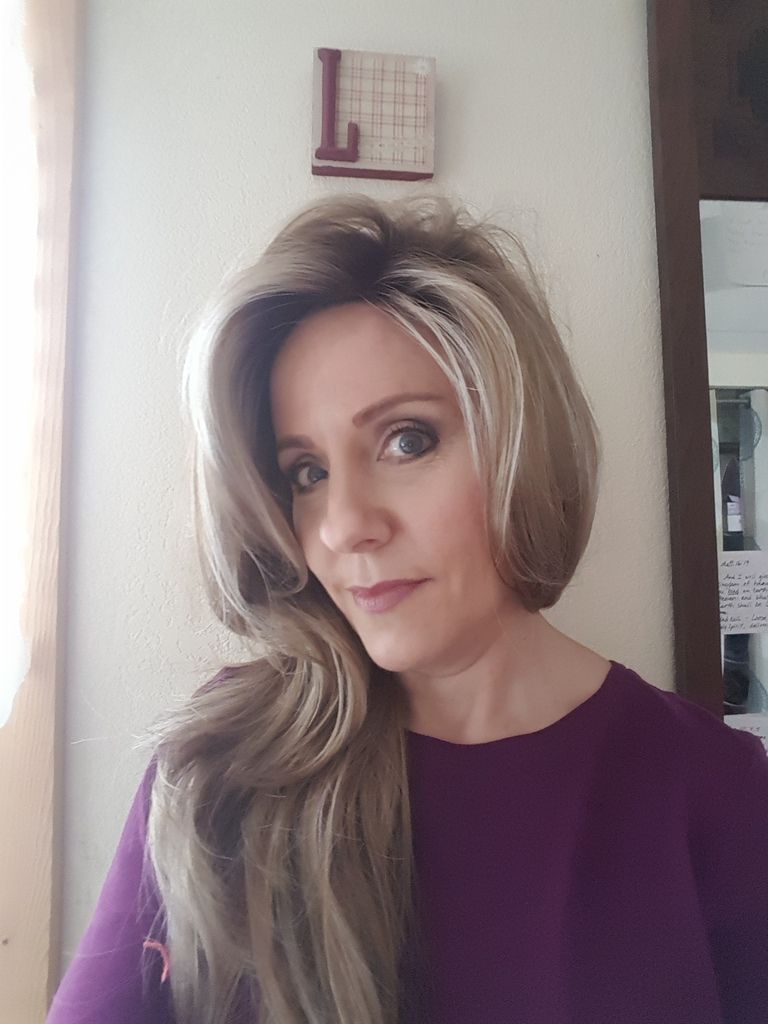 Price:
Retail is $135.90 - $158.00 (depending on the color). This color I am wearing (Almond Frost) costs $158.00. Uniwigs does offer FREE SHIPPING on orders over $49.00
**Uniwigs is offering a 10% discount with the code below**
Coupon code:
Tina10
to save 10% off
at checkout!
Wig information:
Carrie Synthetic Wig: https://goo.gl/7CzYJR
SKU: AL01003
UniWigs LAVIVID collection: https://goo.gl/HleMZk
LaVivid Face book page: https://www.facebook.com/lavivid.Uniwigs/
Shipping Cost were great! Again, Free shipping over $49.
Under $49.00 is $4.95 US Ground, 4-7 days.
This wig gets a 5 star and an A+ from me! I think it is amazing! Carrie is very comfortable, cool, easy to wear, fits perfectly, perfect amount of hair, parts nicely, gorgeous color and looks like model hair! What's not to like?
As of now, I don't have any cons other than I had to wait a few weeks on shipping. This Lavivid Collection has a prep time of 2-3 weeks on this Carrie wig. But I have to say, when it was shipped they contacted me via email and provided a tracking number so I could watch it's location. So all in all, NO CONS about the wig.
That is something I will have to decide over time. Some wigs I have purchased in the past have been very cheap and they don't last long. So if this wig lasts a while (6 months or so) I would say yes. You may think spending $158 is a lot of money for a hairpiece, however, if you go to the salon and get highlights done, a trim, and styled, I would say you probably spend close to that anyway about every 2 months at least. So if it lasts 6 months or longer, I would say yes, it was worth the price. I plan on doing a few updates in the future on Carrie so stay tuned.
THANK YOU UNIWIGS for this amazing wig! I have my eye on the chocolate caramel color and hope to purchase it soon!
Disclaimer: I purchased this wig with my own money, I did however get a discount in exchange for my honest review. I'm not getting paid for this review. All opinions are my own.