Jackson by: Noriko Review
in color Creamy Toffee R
Shipping:
This Noriko wig comes in a nice box with the cap inside out for shipping and handling. It comes with an info card. The style and color listed on one side and the care instructions on the back.
Wig Feel & Style:
This synthetic wig feels very nice, soft and real. It is a straight style with layers. It is considered a long wig but only comes to about 8 inches from the nape of the neck. It has been referred to the Jennifer Aniston wig due to the style. I would have to agree. It's very cute!
This wig is NOT heat resistant. After washing (listed on care instructions) you turn inside out and hang to dry. Then you just shake it and put it on. It is supposed to go right back into its shape/hairstyle.
Front view of wig.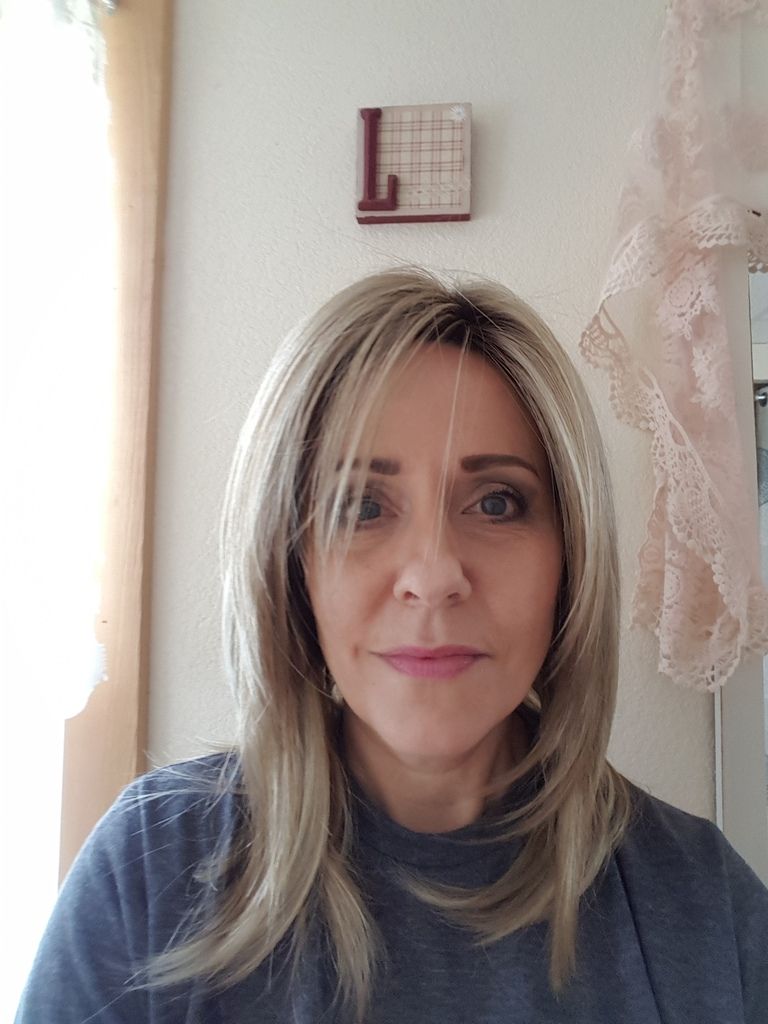 Back view of wig.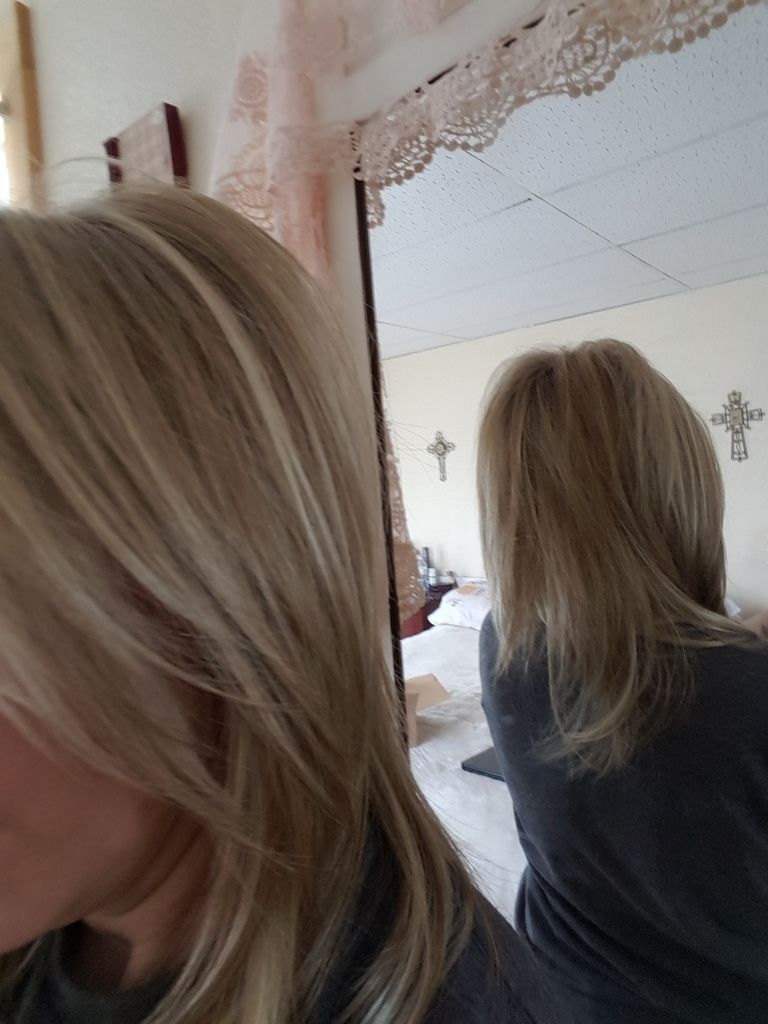 Side views.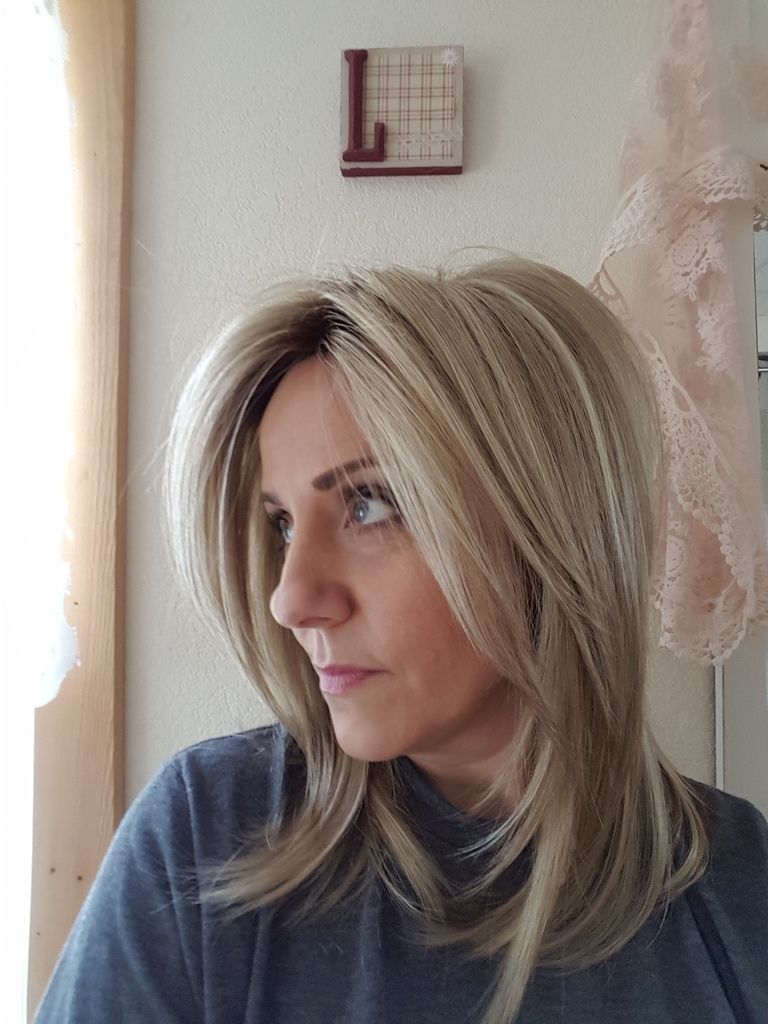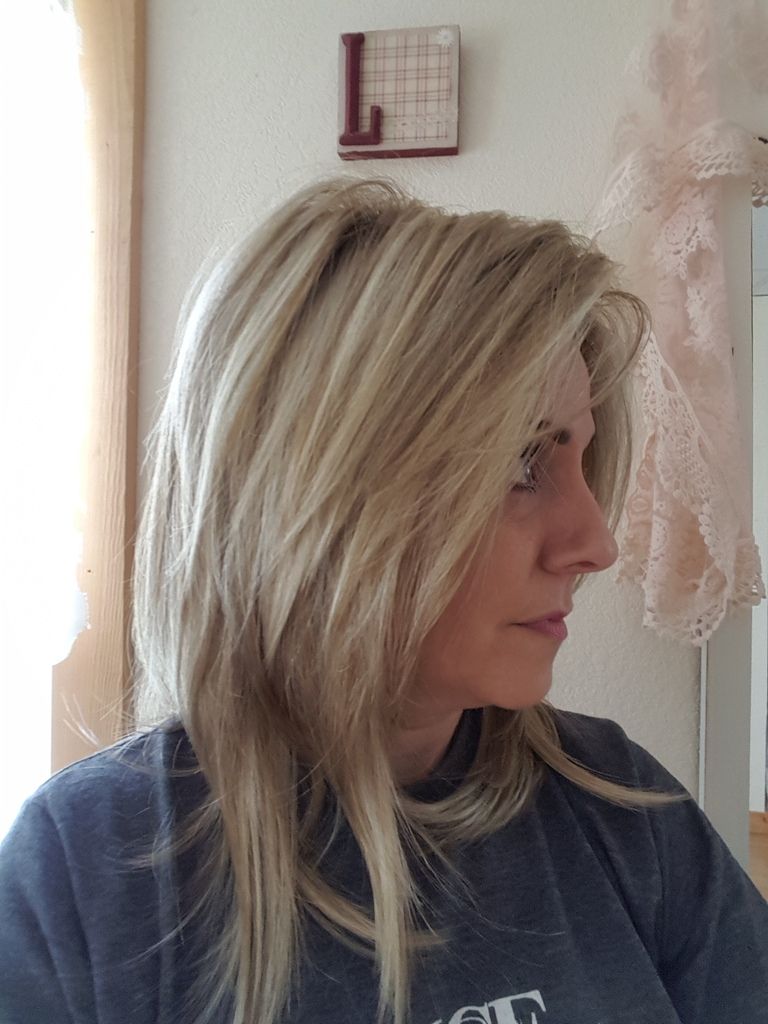 It has a lot of nice layers in it. It's not thick and bulky but not too thin either. It is a straight hairstyle that can be parted on either side or in the middle. It's long enough that it could be pulled back in a low ponytail or just the front & sides could be pulled back with a small clip.
Color:
This Creamy Toffee R has gorgeous blonde shades throughout the hair with dark brown roots for a more natural look. The platinum blonde, being the strongest color to pop, is just beautiful! One reason I chose this color blonde is because I can never get my hair dyed this shade of blonde and look like this due to my dark color. I've had bleach blonde hair about 14 years ago but as you may know, when you bleach your hair the shafts of the hair get big, tangled, dry, brittle and they are very unhealthy. So this is a great alternative!
Cap Construction:
The cap has 2 adjustable straps for security. It has ear tabs for comfort and a soft band at the nape of the neck and forehead as well. (The cap is made exactly like the Reese wig, also by Noriko, which I reviewed Feb. 27, 2017.)
It does have some permatease on the top and back top for lift. Some people don't like the permatease but I love it because I could never get that much lift in my bio hair even with tons of back combing and hair spray.
Price:
Jackson retails for around $118. I searched for the best price on this wig and came up with a few websites. The first one is Brand Name Wigs. Their price was $90.95, click HERE to view the wig. (They also offer free shipping over $50) The company I purchased the wig from was Wilshire Wigs. Their price was $118, but offered a 30% off code for a sale they were running. Perfect timing hey? So that brought the wig price to $82 approx. & FREE shipping! Click HERE to view the Jackson from that site (Wilshire Wigs). I'm not sure if that 30% off sale is still going on, but you could always call to see what discounts they are offering. They offer free shipping as well on orders over $50.
The wig comes in many different colors. I highly suggest you YOUTUBE the wig and color before you buy it so you can see what it looks like on other people (rather than just the model on the site).
Overall the wig seems great! I will do an update after a few month wear. I'm interested in how it will stand in the heat of the summer. ;) I started wearing wigs last October so I haven't experienced the summer heat being a wig wearer yet.
Disclaimer: I purchased this wig with my own money. All the info. given is from my own experiences & my own opinions.