A good friend of mine introduced me to Kefir. For those who have never heard of Kefir (like me until a few weeks ago), Kefir is a tart drink that taste like yogurt. It contains beneficial yeast as well as probiotics that your body needs, like those probiotics you buy in the store or find in yogurt. Kefir contains natural bacteria and yeast. It has great health benefits when consumed regularly. It's loaded with valuable vitamins, minerals and easily digestible proteins.
You can make Kefir in your own home by starting with Kefir grains. You can get the grains from a friend and I've heard you can buy them online. I would recommend that you get them locally, from a friend.
Here is a great video on youtube that shows how to grow/make Kefir and the benefits. This youtuber is very informative and says that it helped cure her from Crohn's disease.*
This is my daily kefir breakfast:
I use
Phood
, by Plant Fusion. I buy this on Amazon for around $38. It comes in vanilla or chocolate caramel. (I didn't like the caramel one, just thought I'd throw that in.) It has several vitamins, high in protein and no soy, no animal products, no gluten and no dairy. I also use raw, local honey. I get this from a few bee keeper friends and it is wonderful and yummy! Then, the Kefir. I use about one cup of the refrigerated Kefir and add some ice to the blender as well. Blend together and drink. If I have bananas, I put one in there. You can add any fruit that you'd like. You can add flax seed or chia seeds too if you'd like.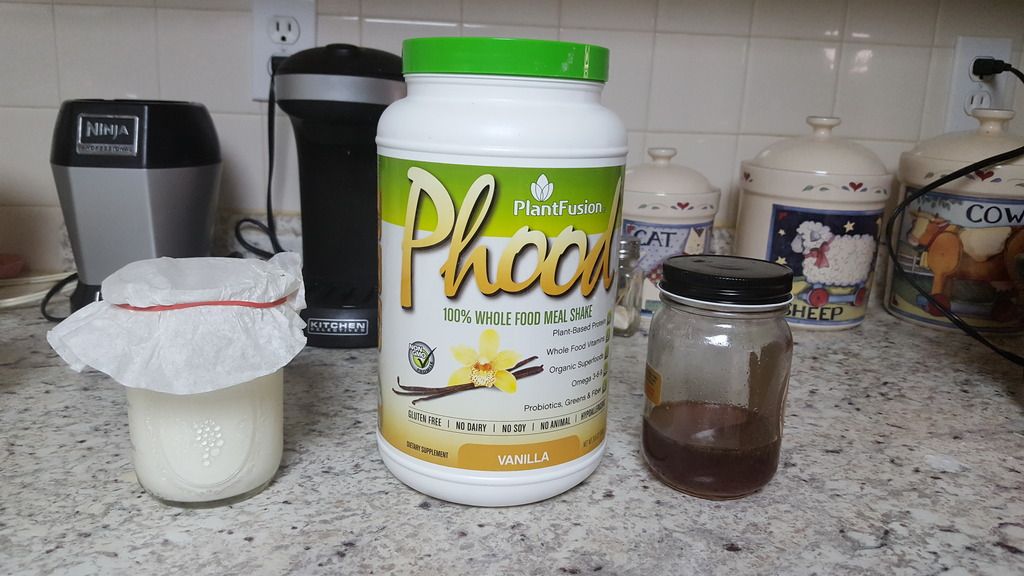 Here is the label on the Phood in case you are interested.
I don't claim to be a health nut. I eat my share of junk food. My fault is candy! I love candy! But I try to limit myself and try to eat as healthy as I can.
Since I started Kefir, I have felt like I had more energy and I don't have to take my daily stool softener anymore. I have to say that when I heard that the Kefir helps with digestion, I was sold and willing to try. There are so many health issues that all stem back to your gut health. I've only been drinking this for about a week and a half. I plan to continue.
So if you have health issues, you may want to check into this. :)
* Disclaimer: I do not claim this will cure Crohn's or any other disease. I only blog from my experience and help spread the word on what health benefits others received from this product.