I did it. I'm a horse owner. Well, we had Cinnamon, our mini horse. (I knew I wanted a riding horse, so we got the mini a few months back.) Anyway, I found a nice trail horse. I have to say, I prayed, and prayed, and prayed for the perfect horse for me. I wanted the 1200 lb. animal to be the right fit for me. My order wasn't small either. I wanted a good trail horse. A mare with a huge amount of patience and well behaved. I wanted no bad habits. One who was trained and gaited. I wanted a horse that would bond with me and our personalities match. Well, my prayers were answered!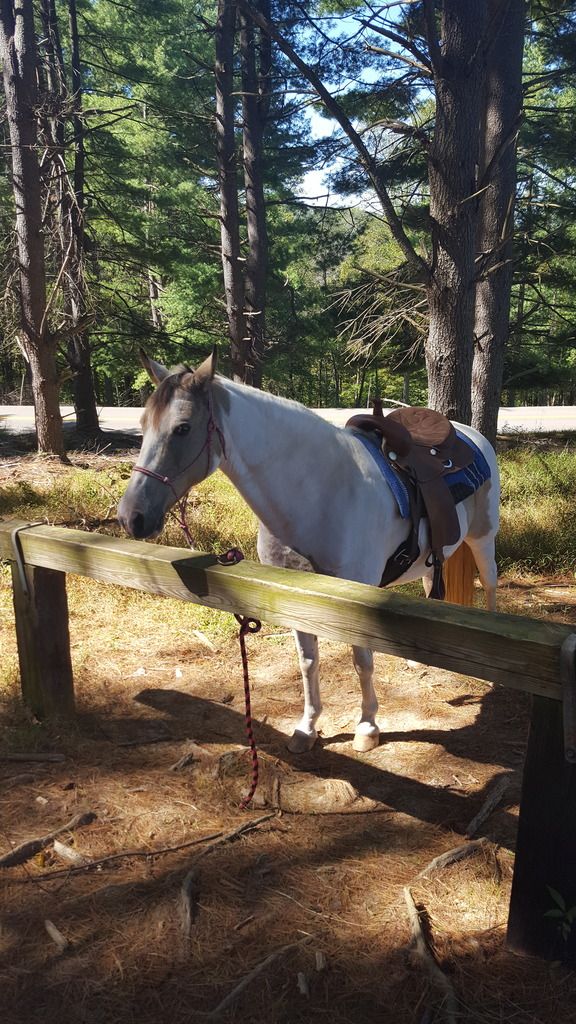 She really only has one bad habit and that's is that she reaches over our fence to eat the grass in our yard. The grass is literally greener on the other side of the fence. Due to the low amount of rain, our grass isn't that great anymore. I've been feeding her grain, minerals, salt and of course hay. LOTS of hay.
Took her trail riding several times and she is doing great! She is gaited and she even knows how to beg. Which I didn't know she was begging until our Farrier told me what she was doing. Someone spent some time with her. She's 12 years old and she is gentle and I love her already!
Cinnamon gets along with her very well. They had it out a few times in the beginning, but it's all good.
I am new to all this horse ownership stuff, but I do have a great mentor. My friend Marilyn has helped me with choosing a horse, trail riding, safety tips, health tips, etc. She is an angel. :) I would highly suggest that anyone wanting to buy a horse to first find a mentor. There is a lot of responsibility that goes into this beautiful creature (and well worth it I may add), and it wouldn't be fair to the animal to get into horse ownership without being prepared.
So, this bad habit she has (reaching over the fence for greener grass), any suggestions on how to correct it? My husband is planning on putting electric fence on the top. The fencing we have now is goat/sheep fence, which is very strong, good fencing. We have sheep and goats so we already had this type of fencing and knew it was strong. Well,........not strong enough to hold a 1200 lb. horse from bending the top over. lol. Any suggestions?