The Thinking Tree's Science Handbook and Portfolio can be found for purchase on Amazon. The book is now on sale for $18.45, but hurry. This sale will be ending tomorrow (I believe). The regular price for this journal is $34.50 so hurry! This book is for all ages.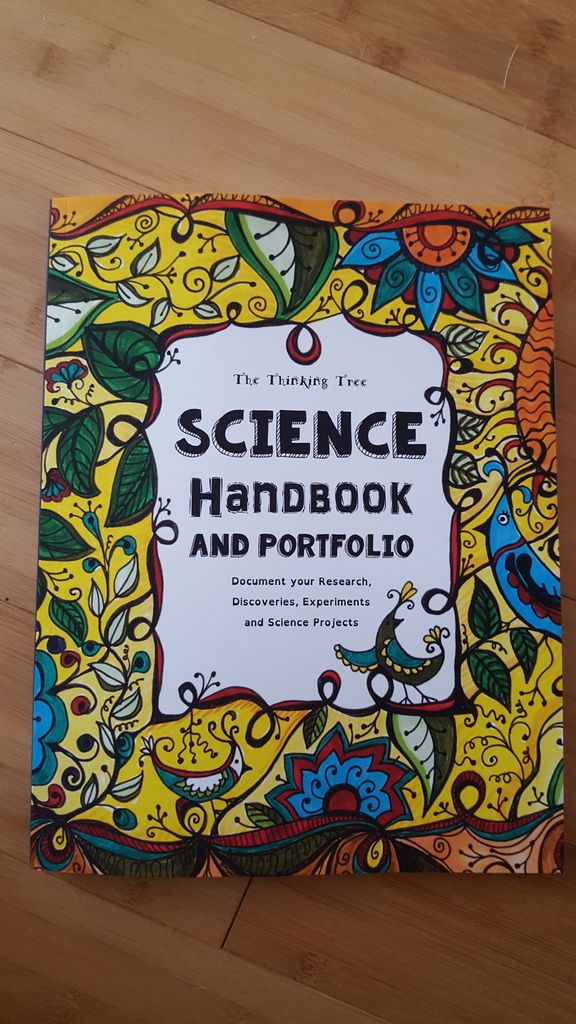 I was introducted to the The Thinking Tree books & Journals a few months ago and I was totally impressed. I was recently given the opportunity to review the Science Handbook and Portfolio journal. This book/journal is new from the author Sarah Janisse Brown.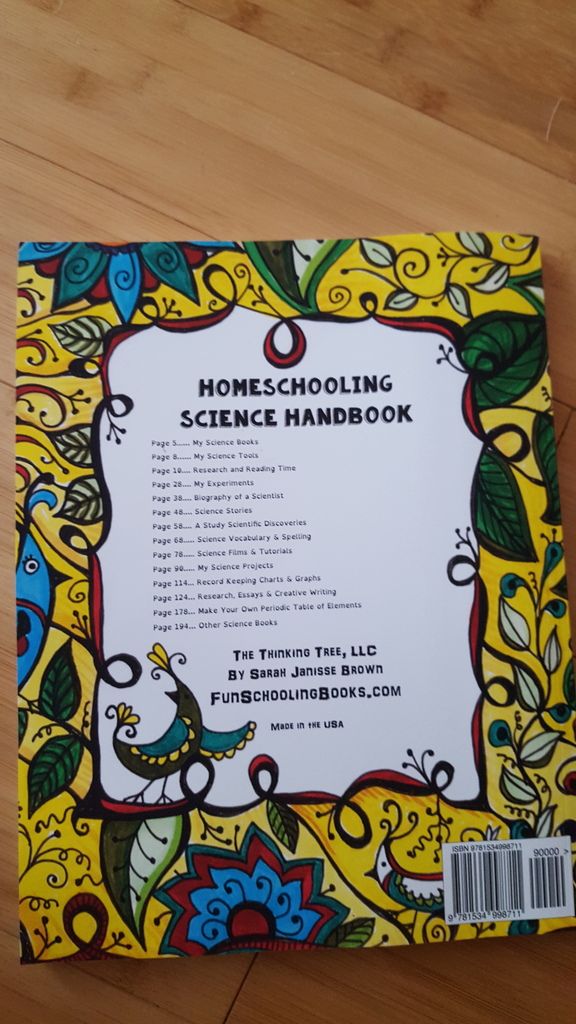 The book/journal contains 199 pages.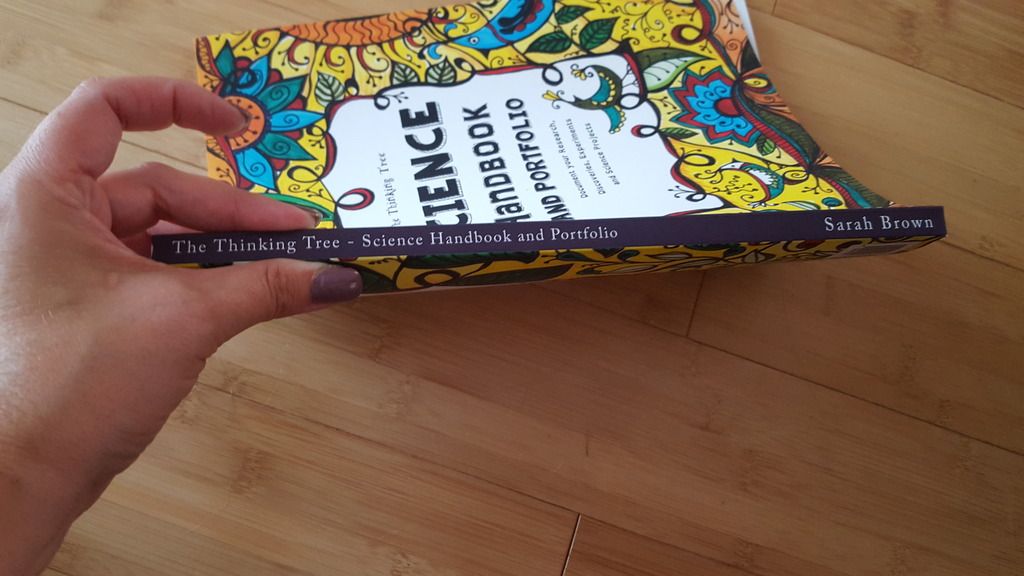 The first page opens up the child to learn about what he or she wants to learn about science. They write down 5 things they want to learn about.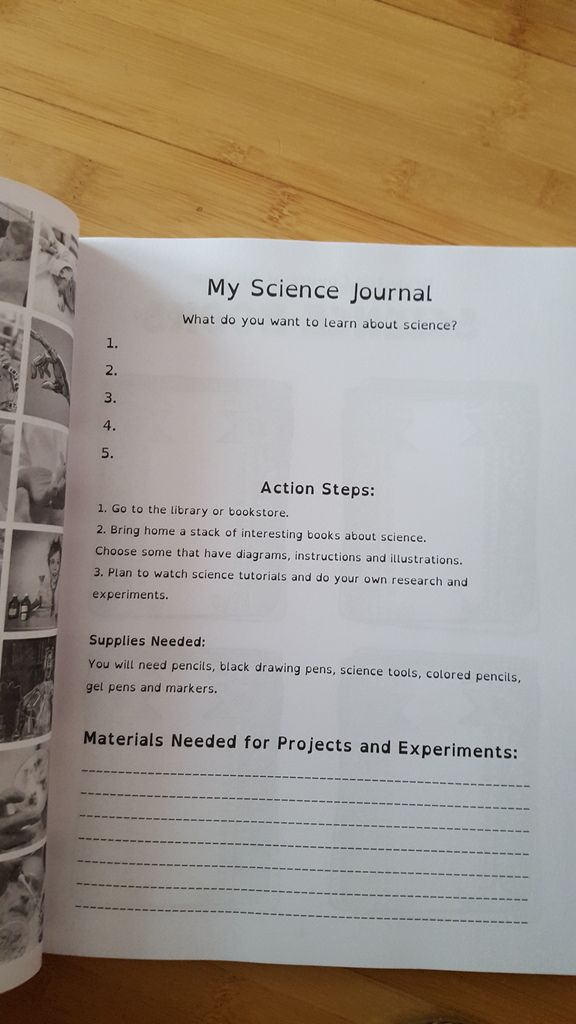 They go to the library (or bookstore) and bring home a stack of books on topics that they chose to learn about. It instructs them to watch tutorials and do their own research and experiments. I think this is great! With the internet booming the way it is, my son loves to get on youtube and look for stuff that interests him or find videos to help solve something he's been working on. Whether it is a video game he needs help with or how to help his poison oak, youtube is where to find it. (Yes, he really did research the poison oak.) So having the kids self direct is a wonderful idea!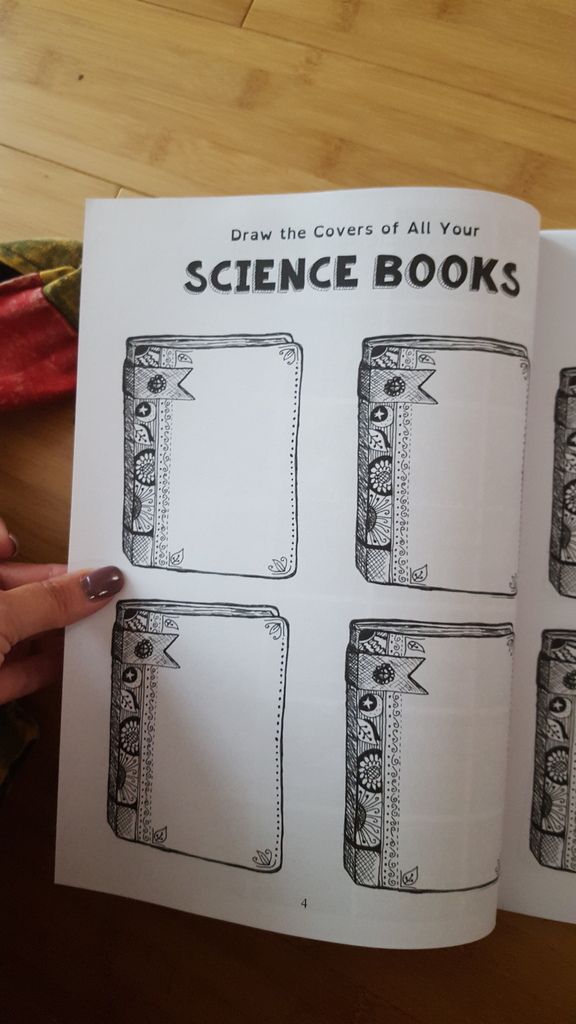 There is also a place to list the books they chose, like the other journals have. It also has a place to put science tools that they will use.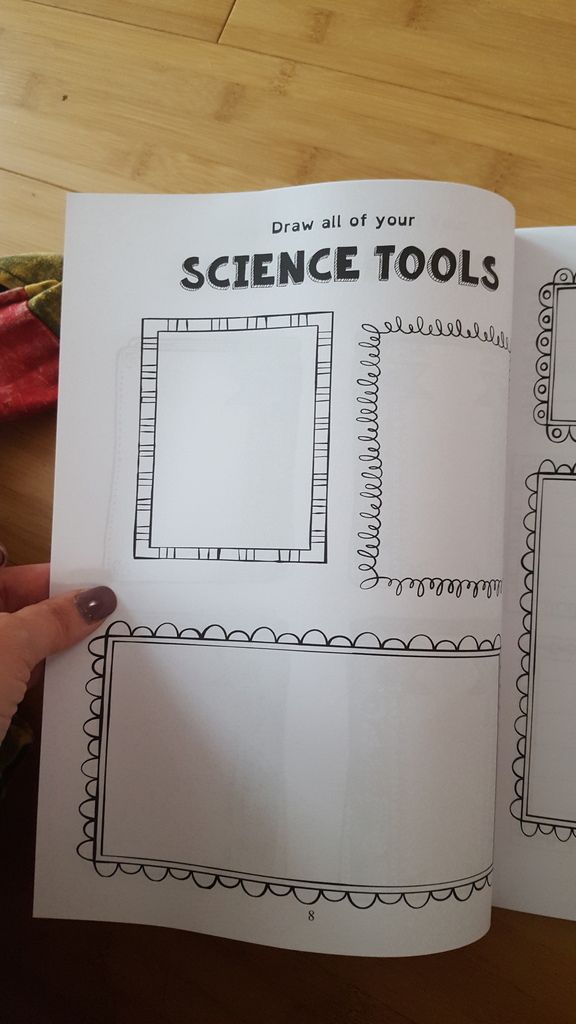 The next section is for research & reading time. They list the name of the book, the topic, date, chapter, page number and title. This is great because some may only use a certain chapter of a book and not use the entire book. There is a place to the right of this page to draw pictures and/or make notes as well. There are several of these pages.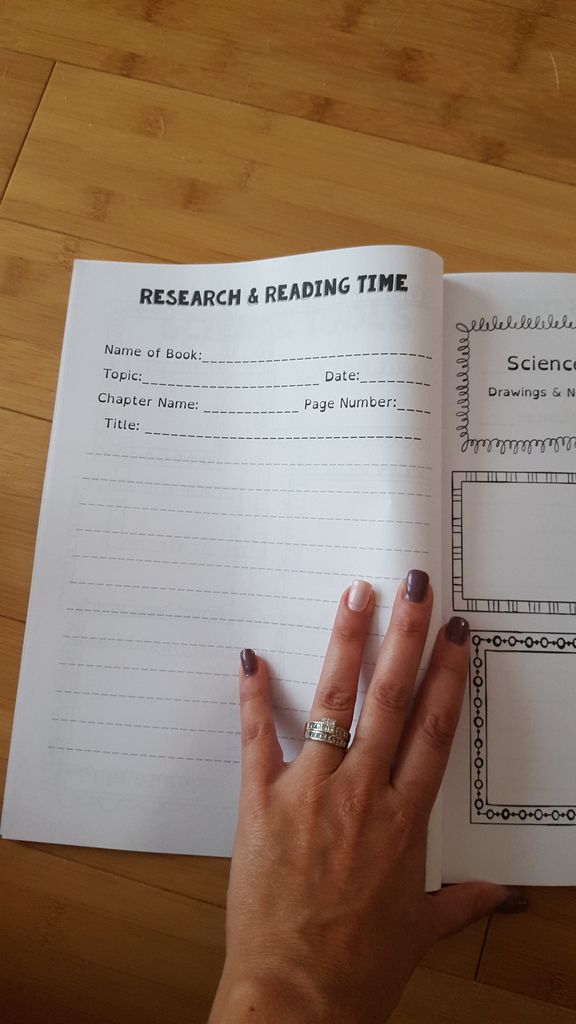 The next section is for the experiments, observation and discoveries.
They can tape or draw their experiments here. You could even tape a picture of the experiment here if you'd like.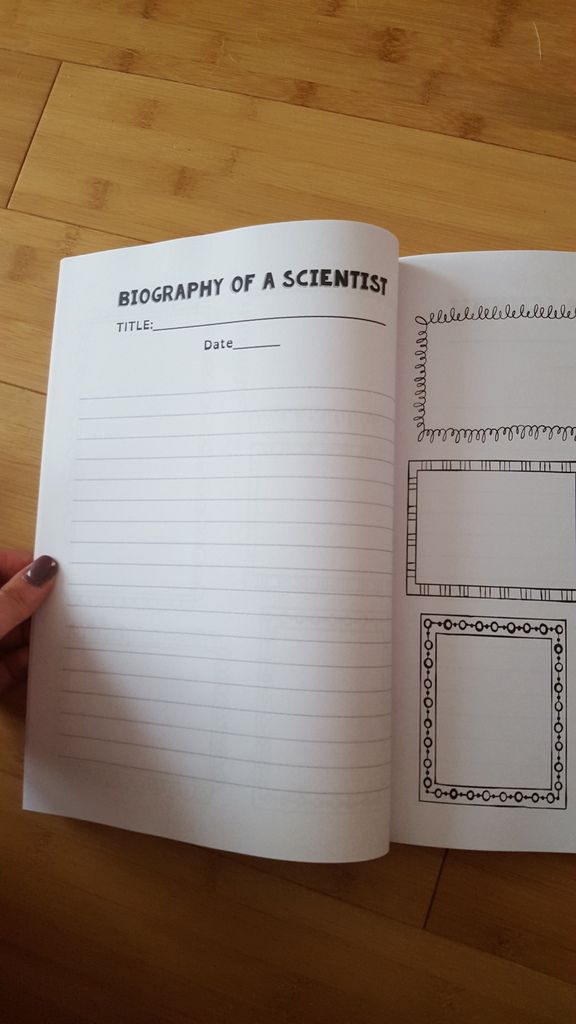 This next section is pure genius in my opinion! The biography of a scientist page is a great way to get your kids to not only learn the scientific concept and do the experiment, but it's purpose is to learn about the scientist himself (or herself)! Maybe his/her life, history, hometown, parents, etc.
Then there is a section called science stories. This is a creative writing page. They can imagine discovering or inventing something, then write and draw about it.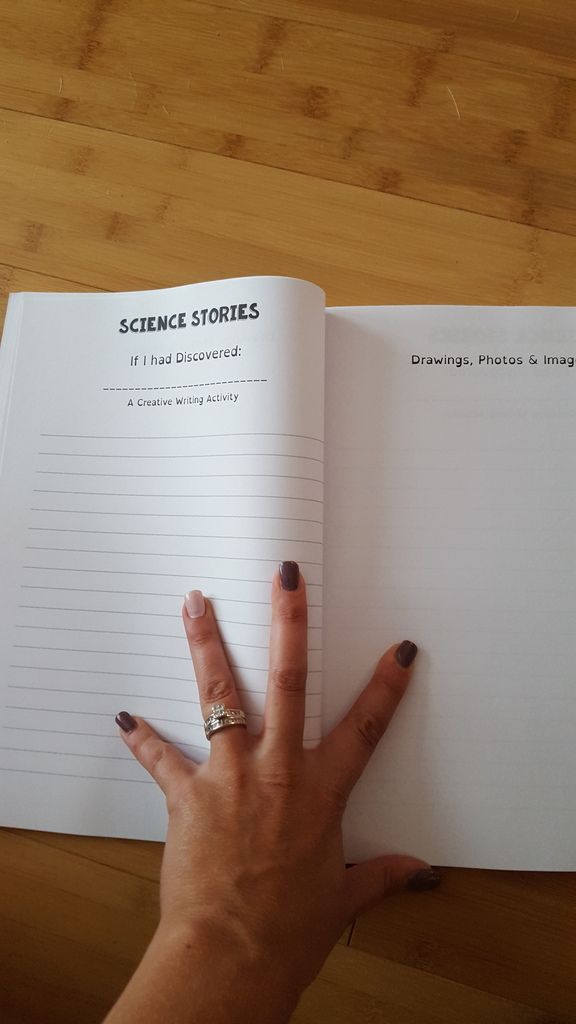 Next brings us to the Who? What? When? How? pages. The kids can decide who to study and answer these questions. There is a page to the right of this for drawings, photos and images as well.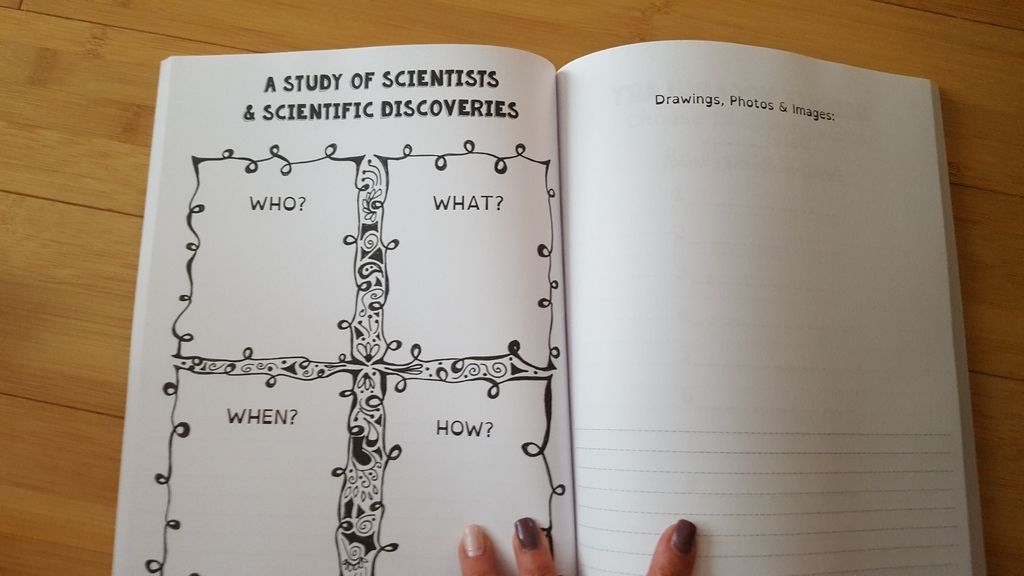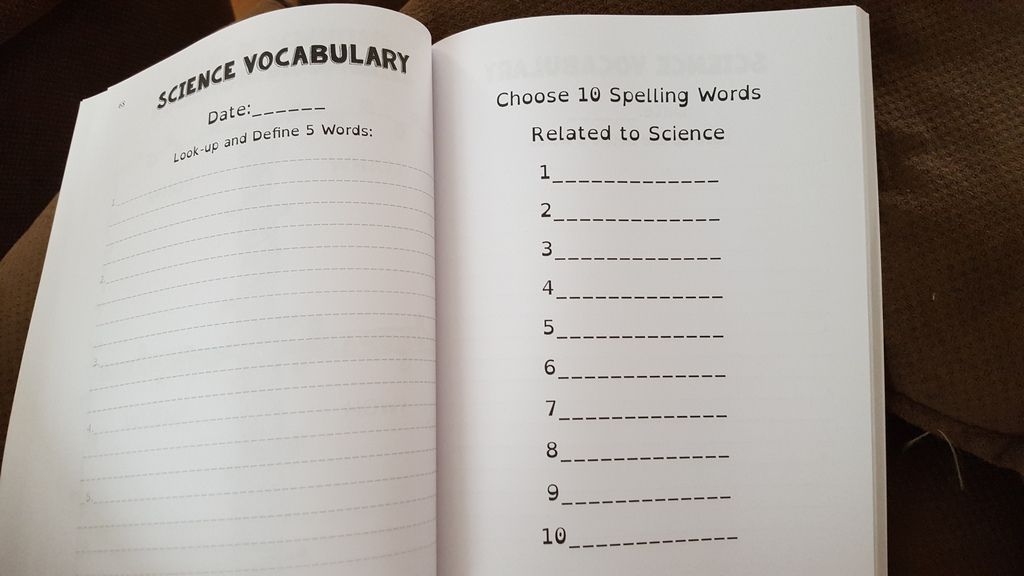 That brings us to the vocabulary and spelling section. The child must look up and define 5 words, then choose 10 spelling words related to science. This is so creative! This makes the child think instead of just copying or writing 10 spelling words that don't pertain to anything in discussion or topic for the day.
This next one is my favorite. It's the science films and tutorials page. We use Netflix quite a bit in our homeschool. My son is more attentive if he's listening or watching something rather than reading himself. This will be great for those documentaries!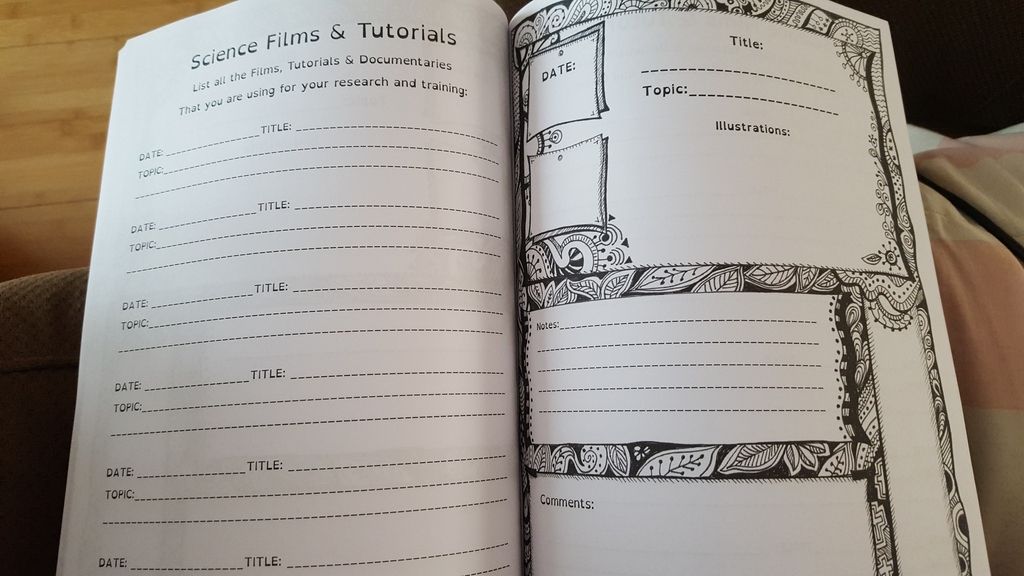 Next section is about science projects. There are pages where the child can list the projects they have completed and a list the materials used, results and add photos, drawings, etc.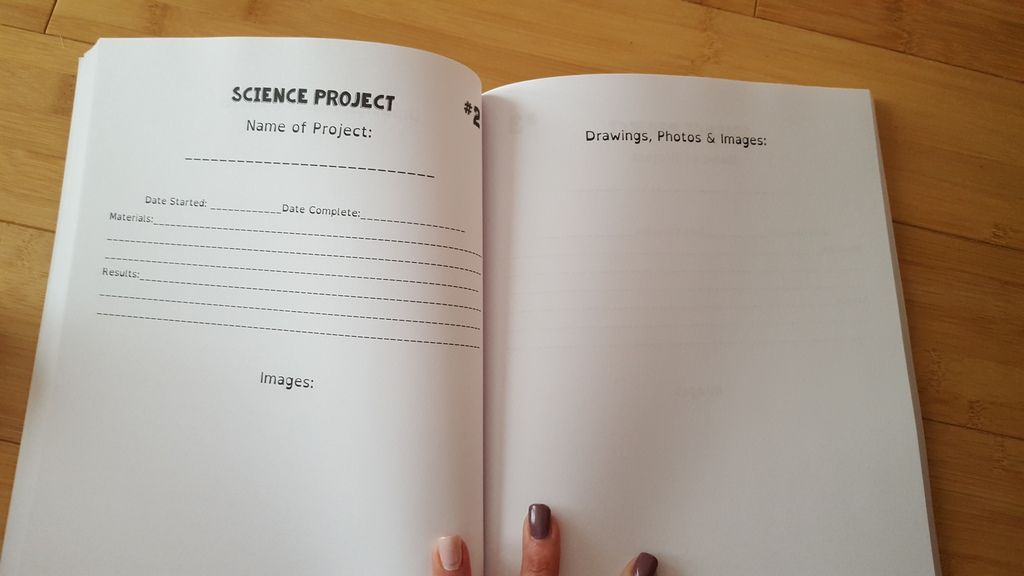 Records keeping, charts & graphs is in the next section of this book/journal. Great place for young scientist to document the great experiments they are doing and/or data they are collecting!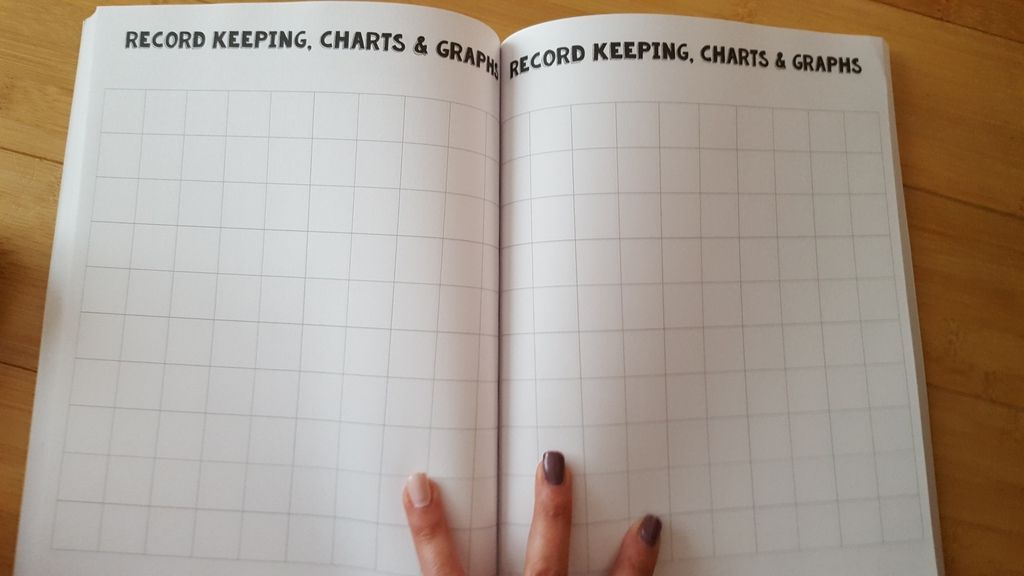 Here is a research, essay and creative writing section. There are several pages of these in here with different pictures for creativity.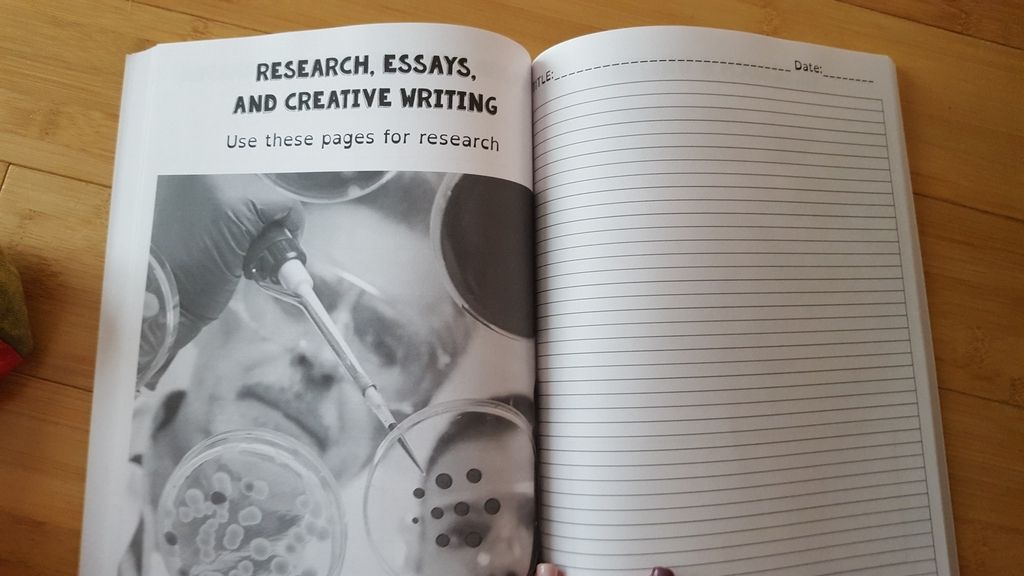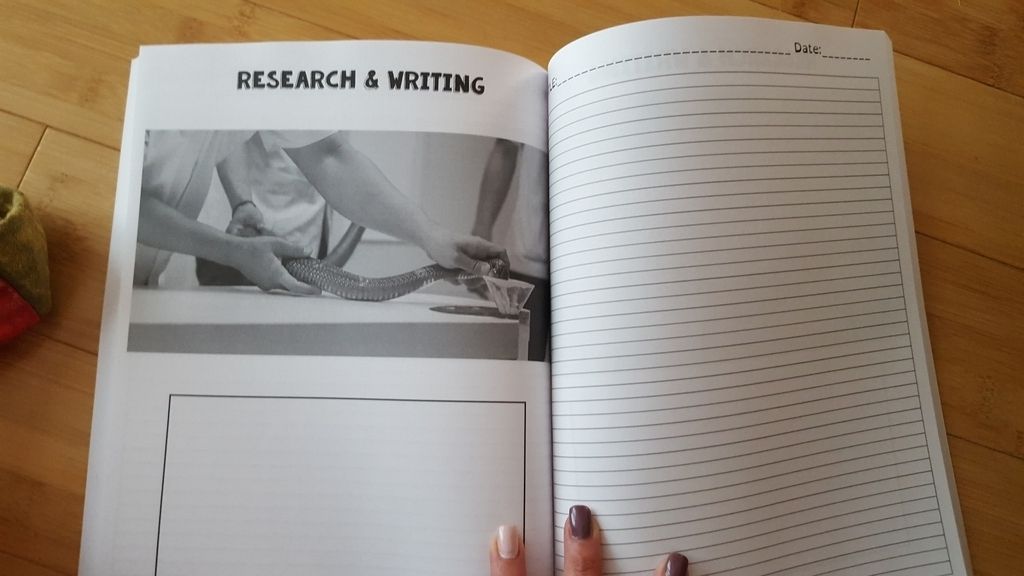 Some are 1/2 page with a picture and a box below to draw in. Some are full picture on one side and to the right is a place for writing. There are several of them though. There is a place to write a title and date on each.
The next section of this journal is a list of the Periodic Table of Elements.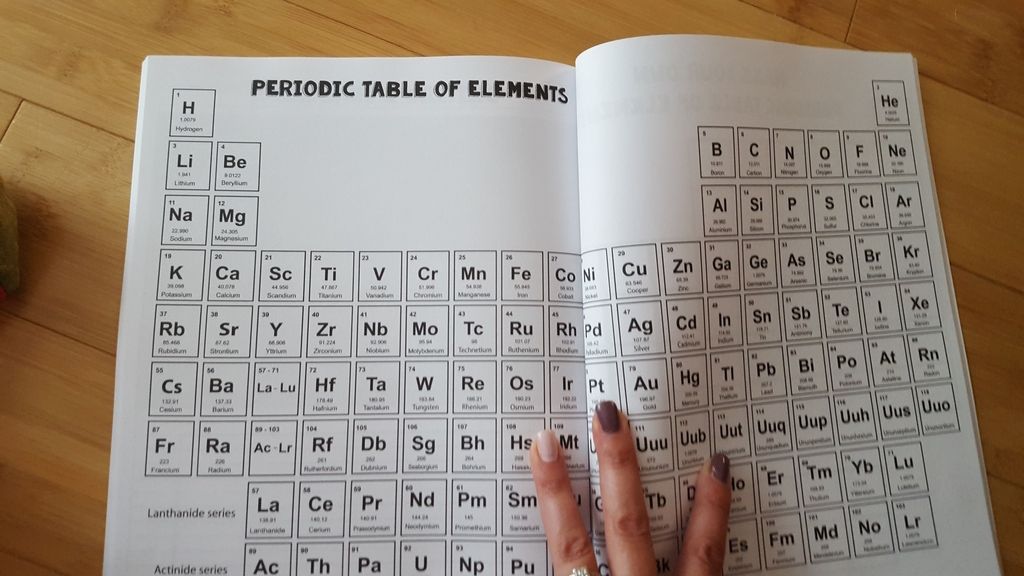 And how great is this? They can make up their own Periodic Table of Elements! There are several of these for the kids to be creative.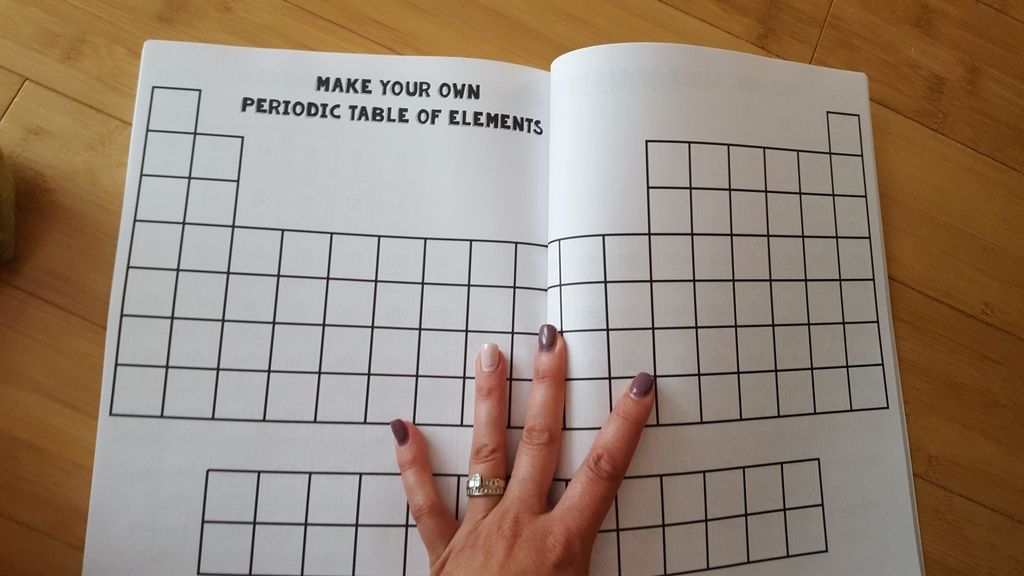 The last section of this book has a place to list/draw extra books that you are reading or using with this journal.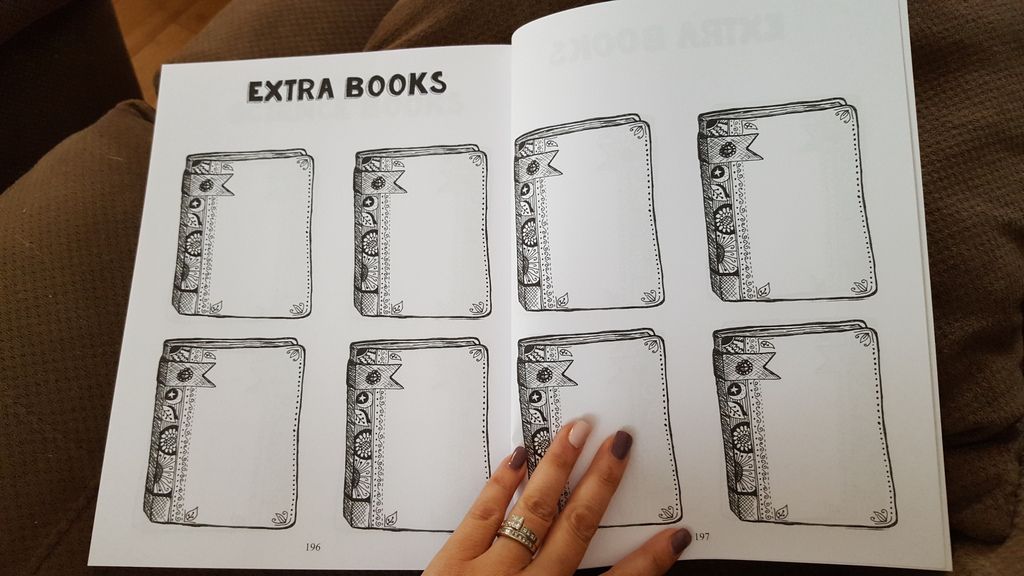 These book/journals from The Thinking Tree and pure genius. They let the child be creative and learn about what they want to.
One of the many many reasons why we homeschool is so we can be creative and learn about the things that interest us and do so outside the box. Let's face it, kids get bored sitting at a desk, reading a lesson and answering questions about what they have read. This brings that explosive imagination that is inside of them to life!
Our homeschool year doesn't start up until after Labor Day, but I just know that my 13 yr. old son will love this! We are using other Sarah Janisse Brown funschooling journals this fall as well.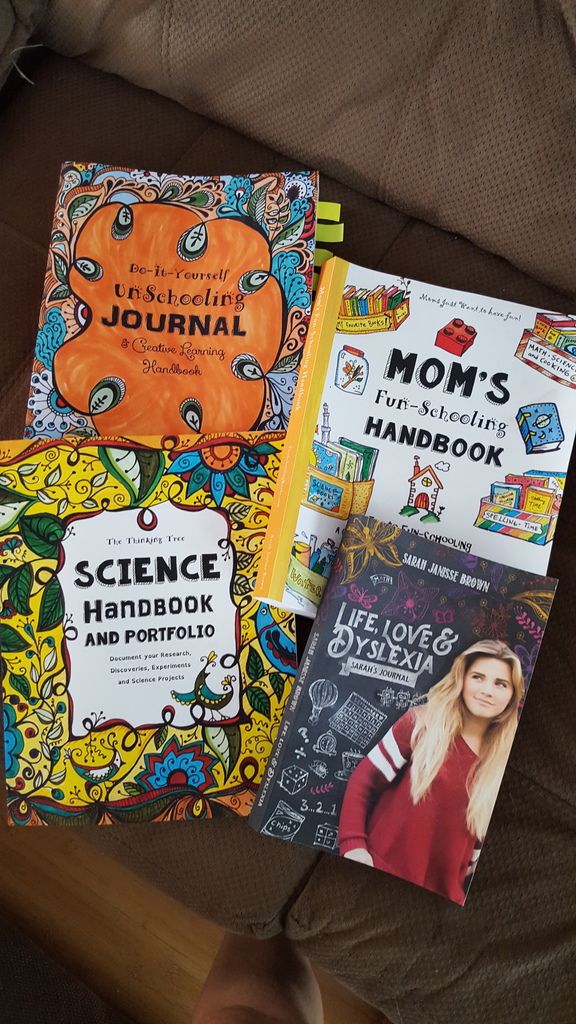 Here (to the right) is my collection of fun schooling journals. I just started and I expect my small pile to grow! The next book on my list to purchase is Picturing the Past. It is a book full of paintings to learn about and their creators. I can't wait! To see a list of her funschooling books, just click on my picture.
Sarah Janisse Brown also chooses a book to go on sale for a few days. Not just a tiny 10% off, but really on sale! For example, this book, Science Handbook and Portfolio, is one of those on sale now for $18.45 from $34.50!! That is some savings!
There are over 200 funschooling books offered for ages 3 -adult. They have math, spelling, devotionals and even mom journals!
The web site is funschoolingbooks.com.
Click HERE to learn a little about the author, Sarah Janisse Brown, read her blog, and see some of her funschooling journals. Her blog is filled with their homeschooling experience and life story which is amazing!
So bottom line, I give this book a 2 thumbs up, 5 stars, A+ and highly recommended for all ages!
Happy Homeschooling!